By Dulue Mbachu
Politicians frequently jump across party lines in power quest

'Failure of Nigerian political class' cited by analyst Hassan
At recent rallies of Nigeria's ruling All Progressives Congress for next year's general elections, the list of speakers is often dominated by former members of the opposition People's Democratic Party who switched sides.
Former ministers, two-term governors and other senior officials who served with the PDP during its 16-year rule take turns to denounce the "corruption and waste" of their erstwhile party while touting the virtues of President Muhammadu Buhari's ruling APC.
It's an illustration of the state of Nigerian politics, where parties are merely a means to power and wealth, with actors propelled neither by ideology nor principle. Known locally as "cash-and-carry politics," success is often measured by gaining access to the treasury and dispensing patronage. Fueled by the country's oil wealth over the past 50 years, the presidency is the supreme prize.
"It's a capture of state power for personal use rather than service to the people," said Clement Nwankwo, executive director of Abuja-based Policy and Legal Advocacy Centre, who has monitored all Nigerian elections since the end of military rule in 1999. "When a chosen party is not delivering on those objectives, the average politician will look for what else could be the platform to achieve that."
Election Victory
Buhari, a former general who overthrew an elected government in 1983, stood as a presidential candidate for three different political parties in elections from 2003 to 2011. It was fourth-time lucky three years ago when his was the first opposition victory since Nigeria gained independence from the U.K. in 1960.
A likely contender in next year's vote is former Vice President Atiku Abubakar, 71. He defected to the PDP from the APC in December, the second time he returned to the party in a decade after pursuing his presidential ambition elsewhere. Abubakar even has an insurance policy. If he doesn't win the PDP nomination this time, his loyalists have already lined up a new party for him — the People's Democratic Movement.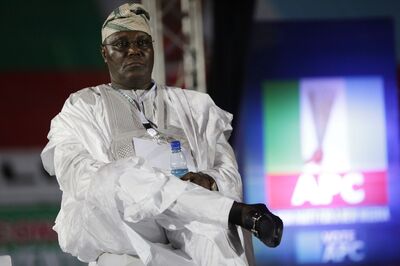 The opposition is now sensing vulnerability in Buhari a year before general elections. Critics say he's failed to fulfill his pledges to fight corruption, focusing more on political opponents, and was too slow in responding to the country's worst economic slump in a quarter century, triggered by a plunge in the price and the output of crude, its main export.
The government has responded by saying it has made progress against the Islamist insurgency in the northeast while initiating major rail, power and road projects to revive the economy.
Politicians with presidential aspirations are heartened by Buhari's apparent failure to deal with a widening conflict over grazing land, secessionist demands in the southeast and the continuing Islamist militant attacks, said Idayat Hassan, executive director of Abuja-based Centre for Democracy and Development.
She cites a "failure of the Buhari administration, and importantly, a failure of the Nigerian political class."
A total of 68 parties so far have been registered for the 2019 vote by the Independent National Electoral Commission.
Coalition Troubles
Buhari has struggled to keep the coalition that brought him to power together. Much will depend on the attitude of Bola Tinubu, the 65-year-old southwest political leader whose support was vital to Buhari's victory three years ago and who the president has asked to help reconcile badly riven APC factions.
The president has been at loggerheads with Senate President Bukola Saraki, a two-term state governor under the PDP who defected to the APC before the 2015 elections. The 54-year-old Saraki, who's nursed presidential ambitions in the past, has with the support of other lawmakers successfully frustrated Buhari's legislative agenda by withholding important approvals.
Legislative Cooperation
Lawmakers have always cooperated with Buhari on bills and requests sent to the legislature, Saraki's spokesman, Yusuph Olaniyonu, said in an emailed statement to Bloomberg News on Thursday. The only exceptions were when a bill was rejected "for being unconstitutional" and when the president's choice of an anti-graft chief wasn't approved because he was considered unfit by lawmakers based on a security report.
Pressure is mounting on the 75-year-old president, who spent a total of more than five months last year receiving treatment in London for an undisclosed ailment, not to run. He hasn't said if he'll seek a second term.
Former President Olusegun Obasanjo last month asked Buhari not to seek re-election, accusing him of nepotism and poor management of the country's affairs.
While they remain a long shot with general elections just a year away, new movements have emerged in recent weeks urging voters to reject both the APC and the PDP. Besides the Coalition for Nigeria that Obasanjo supports, they include the Red Card Movement led by Obiageli Ezekwesili, a former minister and ex-vice president of the World Bank, and the Nigerian Intervention Movement headed by human-rights lawyer Olisa Agbakoba.
"We had hoped the system would correct itself, but we now see the mess the APC has become," Agbakoba said in a phone interview from Lagos, the country's biggest city. "We're tapping into the existing anger to disrupt the current political system."
Credits/Bloomberg