Introduction: By Kevin Baron
The one consensus seems to be the view that, under Trump, America is no longer the world's clear leader. And that is a titanic change. 
If President Donald Trump came to Washington to upend the system and bring radical change, so far he has failed miserably at the Pentagon.
At the start of his second year in office, here's the record: Trump ran on a promise to pull America out of foreign wars. Instead, as commander in chief he has continued or increased the U.S. military's presence and fighting in Afghanistan, Iraq, Syria, and across the Middle East and Africa. U.S. special operations forces are still operating in 90 countries.
Trump disparaged NATO to the point that some allied leaders questioned its future and America's commitment to defend Europe. Instead, the U.S. has bolstered its support for the alliance and increased troops and firepower along Russia's borders, from the Arctic to the Black Sea.
Trump's critics worried he would bend toward Russia, given his resistance to investigations of his campaign's cooperation with Putin's anti-American intelligence operations. But in Eastern Europe, the U.S. military has added exercises, rotational troop deployments, and patrols, deterring and preparing to respond to Russian provocations.
In Washington, Trump promised the Defense Department a massive "rebuild," from manpower to ships to aircraft. Some of that is in the pipeline, but his administration's first real budget request, for fiscal 2019, shocked and disappointed some hawks. Trump's team proposed a "modest" 10 percent funding increase ($80 billion, actually) for that year, but proposed flat spending through the rest of his presidential term. It's a lot of money, and troop numbers will grow as expected, but it is not much of a buildup.
Trump also promised to reform the Pentagon's buying ways, but has barely moved the needle even on his early targets: the F-35 and a new Air Force One. It took the new administration and Congress nearly a year to install a deputy defense secretary, who normally has that reform portfolio, and he has barely begun to get his feet wet.
Time and time again, what Trump promised to do, or what national security elites in "the blob" feared he would do, has not happened. The 45th president has been a pretty establishment-like commander in chief. Nowhere was this clearer than in the White House's National Security Strategy and the Pentagon's following National Defense Strategy. By most accounts, these documents laid out a vision for the U.S. not terribly different than those of President Barack Obama (and Presidents George W. Bush, Bill Clinton, and George H.W. Bush).
So the State of Defense for 2018 is stable? Not exactly.
Here's what change Trump hath wrought: he approved the request of U.S. generals to loosen the reins on how the military fights terrorist groups. But as more ISIS fighters began dying, so too did more civilians. In Afghanistan, instead of ending the U.S. war, he ordered yet another American escalation, but this time with air power and specialized Army battalions that will put Americans back on the ground fighting with Afghans (as "advisors," but outside of the wire in a way not seen by conventional forces since 2014.) Lest you think that was Trump's leadership, know that these changes were in the works before his inauguration; they came up from senior military leaders, not from the incoming administration's political appointees or policy leaders. Trump signed the orders Defense Secretary Jim Mattis and Joint Chiefs Chairman Gen. Joseph Dunford recommended.
So 2018 is really the year that Obama's wars truly become Trump's wars. Take Syria. U.S-backed Syrian fighters did all that Washington asked of them, but now they and top American commanders worry Washington will abandon the peace. U.S. generals want the region focused on snuffing out ISIS and turning Assad (and Russia) toward a Geneva peace process. But Turkey has gone rogue, unilaterally invading Syria, killing Syrian Kurds, taking control of new territory. They have demanded that U.S. officials pull back its partner forces from northern Syria. U.S. Central Command's Gen. Joseph Votel refuses, pledging to stand by and defend the Syrian Kurds who liberated the land from ISIS. But Trump's White House barely mentions the conflict and his war cabinet has done little to get Turkey to turn around and go home. Just the opposite, in fact — after Erdogan threatened to kill American troops with an "Ottoman slap" at Manbij, Secretary of State Rex Tillerson and Defense Secretary Jim Mattis went ahead with meetings with Turkish officials, smiled, shook their hands for the cameras. NATO allies (with key air bases and nuclear stores) come first, it seems.
Trump also has continued to use a type of rhetoric unheard of by any Western leader, much less an American president. Exhibit A: North Korea. The president has provoked, prodded, practically dared (remember the bigger nuclear button?) North Korea's Kim Jong-Un to keep pursuing nuclear weapons or else the U.S. would — do something. This month, the New York Times documented how serious Trump's team has become about Pentagon options for military strikes to stop Kim's nuclear goals. Even the doomsday clock ticked closer to midnight, Hawaiians kissed their loved ones goodbye during a false alarm.
This is the landscape in which the Pentagon is operating into 2018. Below are four looks into the year ahead for the Army, Air Force, Navy, and Marine Corps — all of which are receiving new missions from the new political bosses and new promises.
The business of national security is a global profession. Trump's policy-jerks in every direction, in tweets and speeches and interviews, have frustrated the elites he belittles, but the impact of Trump's perceived lack of focus, concern, or leadership on so many issues have meant far fewer changes to actual national security policies than some feared. Observers of this year's annual Munich Security Conference proclaimed a sense of "relief."
Bloomberg's senior Europe correspondent may have said it best: "After a year of U.S. President Donald Trump, the trans-Atlantic security establishment seems unsure whether to be relieved that a major war hasn't begun on his watch or alarmed at the scale of emerging risks."
The one consensus seems to be the view that, under Trump, America is no longer the world's clear leader. And that is a titanic change.
From Africa to Afghanistan, the U.S. Army is expanding its nation-building and its operations against terrorists, even as thousands of stateside soldiers prepare for possible conflict in North Korea.
From new units to new conflicts, new technological problems, and an overweight recruiting pool, the U.S. Army has a big plate of challenges heading into President Donald Trump's second year in office.
2018 began with a brand-new national defense strategy that seeks to pivot the U.S. military from fighting terrorism to great-power dynamics. It's a year in which ISIS begins with no caliphate in Iraq and Syria. But that doesn't mean the 7,000 or so U.S. troops spread across the two countries can leave tomorrow. The administration's intent to change the direction of the war in Afghanistan, now in its 16th year, calls for thousands more American troops — including hundreds reportedlyheaded into areas of hostilities with rushed training and preparation. American soldiers are training Ukrainians with powerful new Javelin anti-tank weapons that could, by proxy, bring the U.S. into confrontation with Moscow and the separatists it backs on its western border. The number of American troops in Somalia more than doubled in 2017. And of course, there is the Trump administration's drumbeat of war with North Korea over its nuclear weapons program, a conflict which could imperil the nearly 40,000 American military personnel in Japan and South Korea.
Amid all these conflicts, the Army is also facing the largest recruiting challenge in two decades. The task: add 80,000 soldiers to replace retirees and separations as the service grows by 7,500 active troops to 483,500 by the end of September. It's a tall order that has some leaders concerned over the quality of those who may sign up. "The Army has not accessed 80,000 new recruits in the last 20 years without violating Department of Defense quality benchmarks," Maj. Gen. Jeffrey Snow told Defense One in October.
are fit enough to last is another. Only 27 percent of Americans age 17 to 24 are slim enough to meet the minimum standards to enlist in the Army, according to a January report from The Citadel, a military college in Charleston, S.C. And as the authors warn, the costs quickly add up — more than $31,000 for each separated soldier.
For now, Army Chief of Staff Gen. Mark Milley, is looking beyond all that. "Someday, somehow, somewhere the United States Army might have to rapidly expand," Milley said at a recent speech before the Association of the U.S. Army in Washington. And that's where the new units that are headed to Afghanistan come in. Dubbed Security Force Assistance Brigades, or SFABs, they are part of Milley's plan to stop breaking up traditional brigade combat teams for piecemeal combat advisory deployments. At least one of these new units, each with about 700 soldiers who volunteered for the work, have already deployed to Afghanistan.
"The Army's current security forces assistance brigade concept can work, but the Army has to go all in and stay all in," one senior noncommissioned officer with multiple combat tours told Defense One. "This can't be a novel, quick cure — the SFABs have to be in it for the long game."
His concern, for the Army and for the soldiers he leads: "Don't end the SFAB mission too soon, or the consequences will be what we are seeing now, again. We 'advised and assisted' Iraq in the waning years before the war there officially ended. We see what happened when we left that mission too soon."
As for the larger picture, Milley is deeply engaged in preparing his service for what could be very large wars in the not-so distant future. Or, as he put it, conflict with "a highly dynamic, highly lethal battleforce against someone who has significant combined arms maneuver capability in all the domains of war — in land, in maritime, in space and in cyber. And we have to modernize ourselves against that type of defense practices of that type of capability."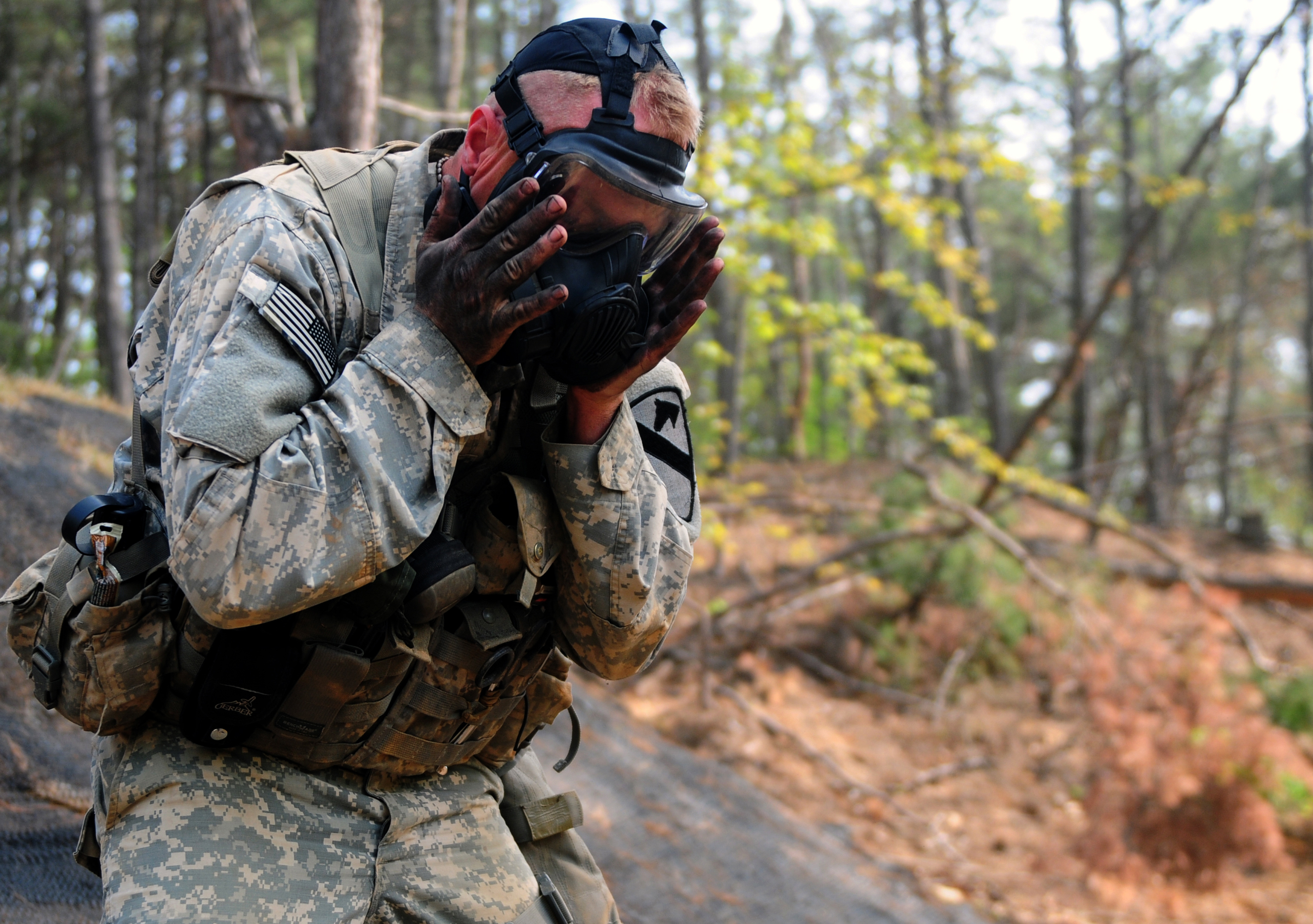 TRAINING FOR CHEMICAL WEAPON ATTACKS NEAR THE KOREAN DEMILITARIZED ZONE IN APRIL 2016.
To accomplish this, Milley has broken down his efforts into a few tracks for the years ahead: "To develop the next-generation combat vehicle, and future vertical lift" — that is, the helicopters of tomorrow. Milley is also looking at ways to improve ballistic missile defense and "close-range missile defense," capabilities his Army would badly need for a conflict with North Korea.
Another objective: "Every vehicle is going to have the capability to be robotic," Milley said. "We are doing a lot of work on developing things like exoskeletons, the cognitive abilities of the mind to train soldiers to deal in very complex environments."
Milley's intent: "We do not want a level playing field. We do not want an even fight, a fair fight against our enemies. We want to be so dominant, so good, so capable that our enemies would never dare attack the United States."
That goal is becoming more difficult as lethal and surveilling drone technology continues to spread to non-state actors like ISIS and al-Qaeda — even triggering a ban on Chinese-made consumer drones on U.S. Army bases stateside. Complicating matters further, we learned in January that soldiers' use of smart devices appear to pose enormous risks to operational security on outposts, bases and installations around the globe, from the war on ISISto training grounds in Virginia.
Milley's technology goals could also hit snags in Congress, a point that doesn't escape the senior NCO. "The Army is focusing on modernization right now, but without appropriate funding from Congress, the service can focus all it wants, it won't happen.
"However, from a soldier's perspective, despite all the negative rhetoric in the media sphere about our current commander-in-chief, he is on the right track in looking to increase the defense budget and increase the capacity of the armed services," he said. "We are worn thin, both personnel-wise and equipment-wise. The only way around that is add more capability in the forms of funding, bodies and maintenance, or subtract the myriad conflicts to which we are engaged. Since the latter won't happen, we have to get on with the first before we fail."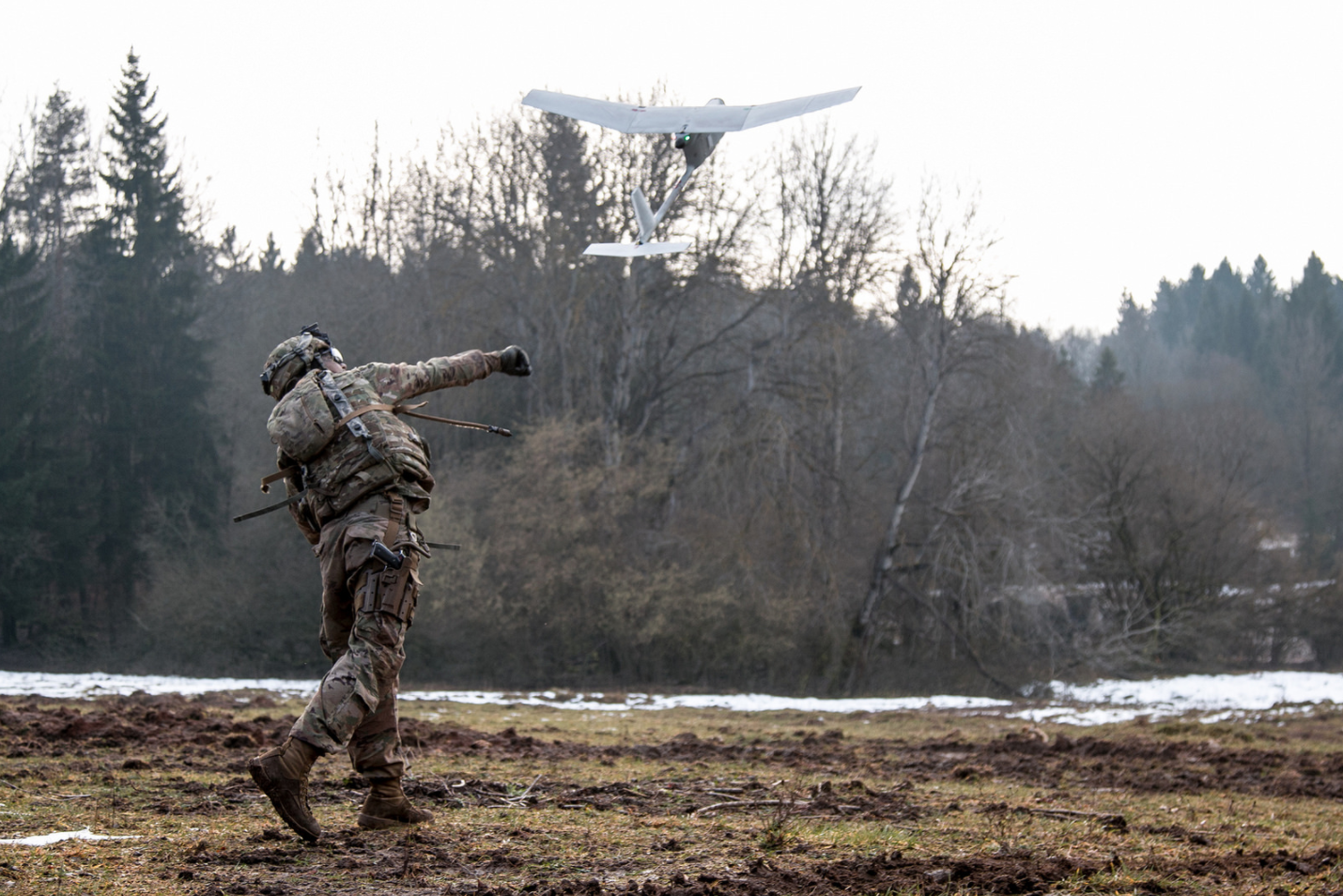 LAUNCHING AN UNMANNED RQ-11B RAVEN AT HOHENFELS TRAINING AREA IN GERMANY ON JAN. 26. 
Army officers we spoke to were no more or less enthusiastic about the job ahead this year than they were two and three years ago. "I would love to be passing out Afghanistan and Iraq Victory Medals, but I'm not sure if that will ever happen," one Army officer said. That aside, he said, "I think our efforts against ISIS have been tremendous and working with our partner forces to advise them is succeeding."
Overall, he said, "I like where we are and I think we have the right people in the right jobs and we are continuing to grow."
Another officer agreed, but said his concerns have turned to how the Javelins could alter the conflict in Ukraine. That's a challenge that could dramatically escalate tensions with Russia as early as this summer, he said. By that time, Russian-backed separatists could have a more difficult time replacing lost tanks without revealing where they are coming from. It's a scenario U.S. Army officials will be watching closely as they continue to rotate brigades in and out of Europe in the months ahead.
The nature of war is never gonna change. But the character of war is changing before our eyes.GEN. MARK MILLEY, ARMY CHIEF OF STAFF
"No one in this room can accurately predict the future, least of all me," Milley said at AUSA. "The nature of war is never gonna change. But the character of war is changing before our eyes — with the introduction of a lot of technology, a lot of societal changes with urbanization and a wide variety of other factors."
For soldiers, however, the burdens of war are not getting any lighter. "I think a lot of people miss the days when Kosovo was the biggest brick in the rucksack," said one officer. "Although we are going through an identity crisis in our own country, I think we are starting to get a better understanding of our true identity after so many years in the Middle East. Throughout Afghanistan, I think we are learning how to better fight what is most important to the bad guys, and we are looking at countering other influences in the region."
Despite the vast array of challenges, the officer said, he doesn't lose that much sleep over any of it. "I'm not spent, by any means. I think the Army remains committed to its people and to the nation."