Editor's note: The following chronological narration by Ose Anenih in her tweet response to Oby Ezekwesili, explained how and when the plan by Federal Government to bring sustainable solution to the deadly Farmers-Herders conflict metamorphosed into the controversial Fulani herdsmen settlement scheme popularly acknowledged and known as RUGA.
Happy to Ma.
1. The VP @ProfOsinbajo under his office as Chairman of the National Economic Council decided to find a solution to the farmer/herdsmen crisis.
2. As far back as 2017 he started a series of consultations with an aim of finding a solution that was acceptable to all.
3. He took a special interest in the crisis when he was Acting President in 2017. He deployed troops to Taraba, and summoned a meeting with the security chiefs and Governor of Taraba State.
4. Crucially, he said the Federal Government would not dictate to states how they would use their land.
5. Now fast-forward to 2019. In collaboration with state governors and representatives of farmers and herdsmen he presents the National Livestock Transformation Plan (NLTP), which again is to be driven by States and is 100 percent optional.
6. The NLTP was approved by NEC in January 2019.
7. In May 2019, Prof. Osinbajo launched his plan, that has been two years in the making, and that's when everything starts going crazy.
8. A week before handover Federal Executive Council (FEC) sits and approves million Naira contracts for Ruga settlements for herdsmen across the 36 states.
9. Then the Ministry of Agriculture comes out to say Ruga is part of the NLTP.
10. Myetti Allah came out to say not only is it part of the NLTP, but that itvis being driven by Prof Osinbajo.
11. Uproar immediately ensues. The South East Governors and most of the NEC rejected Ruga.
12. Benue state said staff of Ministry of Agric came to Benue and were told the Land Use Act vests land administration with the Governor and they (Benue) do not want Fulani settlements.
13. The Ministry Of Agric officials left, but returned the next week with contractors to build the rugas.
14. In an unprecedented move, Osinbajo distances himself from the Ruga initiative stating that it is NOT captured by or forms any part of the NLTP.
15. The Presidency then issued a statement saying they will 'begin' consultations and that this consultations will be led by the SGF.
16. The first pillar of the NLTP was not any settlements, it was conflict resolution and compensation to indigenes for losses they suffered from the conflict.
17. It also sought to establish sustainable business livestock practices for ALL Nigerians, not just Fulanis.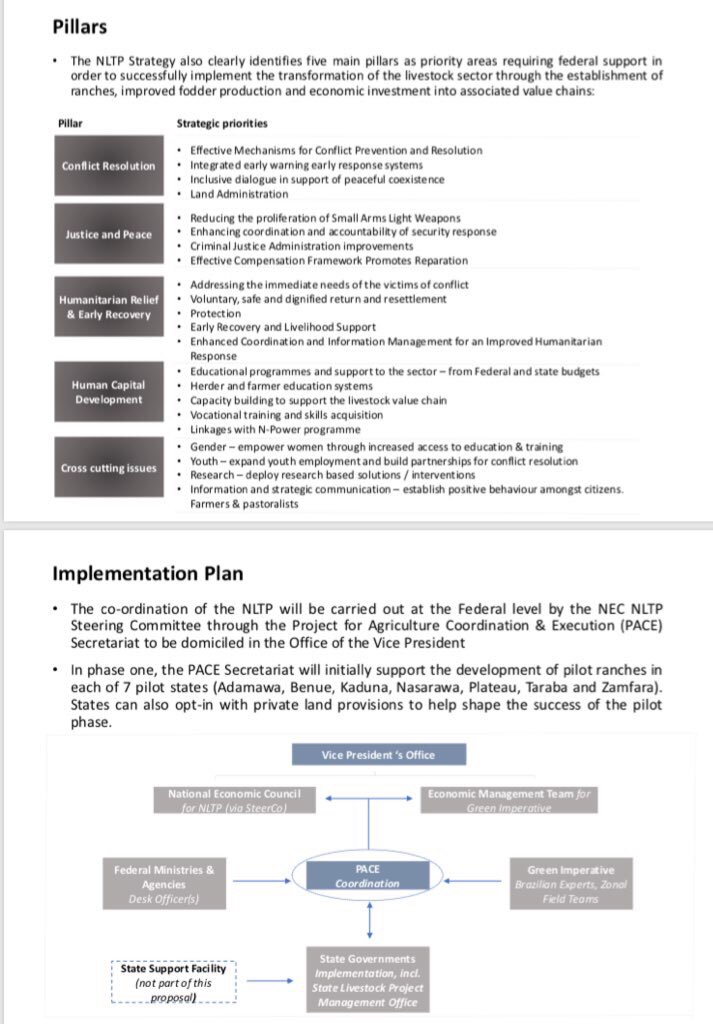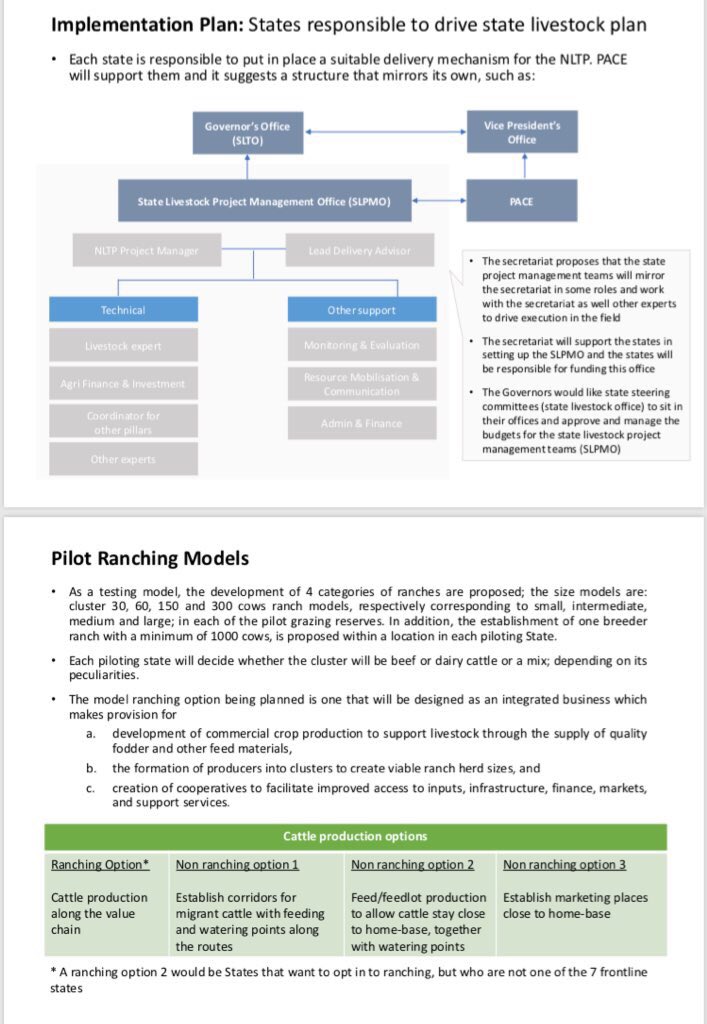 18. All of this meticulous work has been jettisoned for a provocative land-grab and a shadowy billion-Naira contract award process that has seen broadband companies get construction contracts.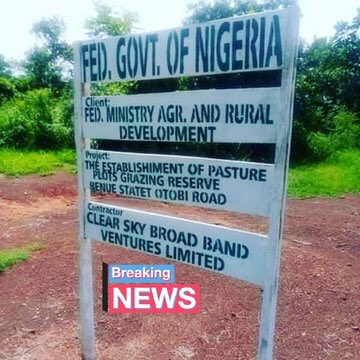 19. This is what the controversy is about. From a rationale conversation trying to find a way for us to peacefully co-exist, shadowy interests within Aso Rock has created a crisis that might lead to loss of life.
20. Already herdsmen are being chased out of some communities, and people up North are already talking about retaliation.
The Federal Government needs to immediately halt this project, and resume the dialogue with the Governors.
21. Finally, I saw this article from Governor of Kebbi State. I'm happy one of the architects of this heist has surfaced.
22. Note that he said N23 billion has been budgeted for farmers. Do you know how he came to this fictional amount?
23. The Federal Government would match funding commitments made by the Governors.

24. Seven states voluntarily signed up for the pilot. Each state would bring N5 billion and the FG would match it. That's in theory a N35 billion commitment from the Federal Government.
25. It's from this fictional N35bn that N12bn has been made available for contractors to build rugas.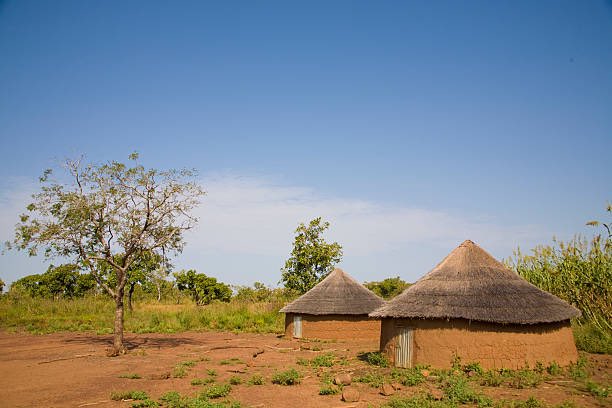 Correction:
FEC approved contracts for the Ruga initiative in the 8th of May. Contract award letters were issued on May 21, 2019, a week before handover.
Credits| Thread Reader