Senator Iroegbu
"Politicians are the same all over. They promise to build a bridge even where there is no river."–Nikita Khrushchev
Did he decamp? No he did not but…
It was a sight of disbelief for Nigerians, especially political observers, analysts and supporters of the two main political parties, the Peoples Democratic Party (PDP) and All Progressives Congress (APC) seeing former President Goodluck Jonathan hobnobbing with the later in Bayelsa State. What happened was beyond belief to a lot of people as APC was a party in opposition and seen as a 'foreign' owned and controlled and their Central Government has not been kind to Bayelsa/Ijaw people in general and Jonathan in particular. What happened in Bayelsa was a classic marriage of strange bedfellows.
First it was pictures and videos that rented the air and across all social media showing the former President's kinsmen in Ogbia celebrating the defeat of PDP in their wards and constituency. Then came the visit of APC stalwarts to Jonathan in his Otuoke home with a smiling First Lady, Mrs. Patience Jonathan and the social media went wild in speculations with some even concluding that the ex number citizens of Nigeria have indeed decamped to a party that terminated their second term ambition in 2015.
Not so fast. What played out is the evolving dynamics of the local politics in Bayelsa State as it is often said: "All politics are local". Secondly, Jonathan as a Statesman in his own right, ex-President and father of the nation is open to welcome any political group to his home. Thirdly, APC wants to use this opportunity for a symbolic 'Thank You' visit to Jonathan for remaining 'neutral' at best in the unfolding but shocking scenario in Bayelsa State. Also as it is said, picture can speak a thousand words, the seeming camaraderie within the APC's visit was to really rub it in their victory.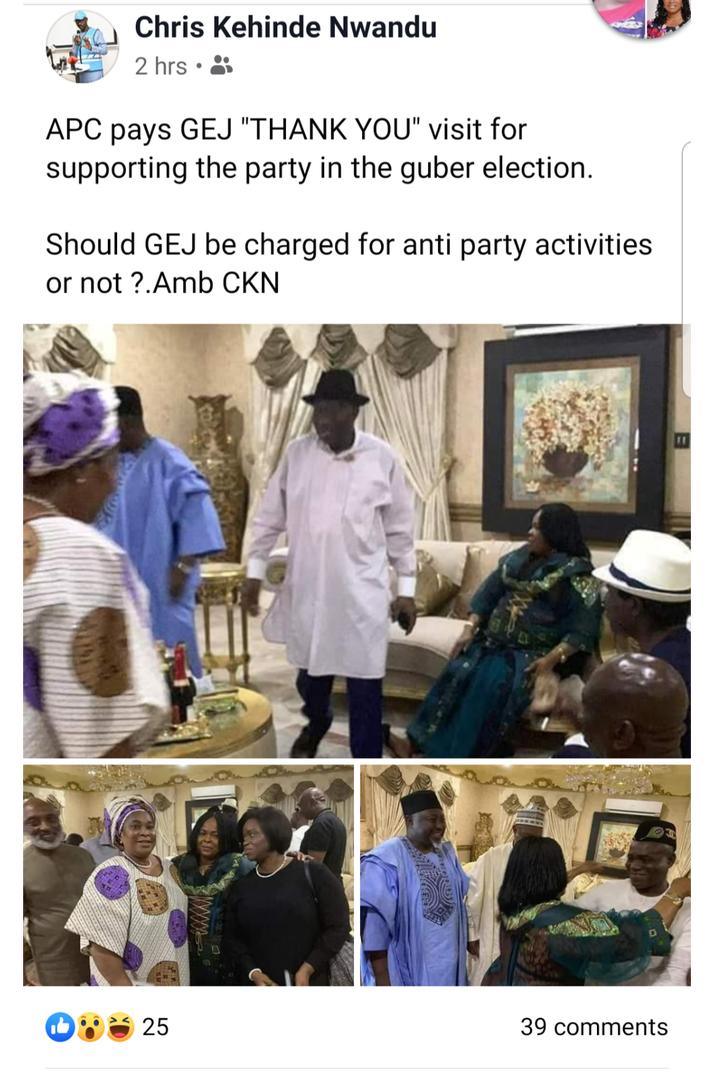 What started like a rumour that the former First Lady, Patience Jonathan has indeed anointed her political godson and former Niger Delta militant, Mr. David Lyon as the APC candidate against the flag bearer of her beloved party PDP became a reality as the gladiators went to the polls on Saturday, August 16, 2019. It is an open secret that Mrs. Jonathan does not see eye to eye with the outgoing Governor, Mr. Seriake Dickson and would do anything to ensure his political dynasty is destroyed.
Apart from the ex-First Lady's determined efforts to 'teach Dickson a lesson', the former President has also been in tacit support of the wife having allegedly had enough of the Governor's neglect, insult and demeaning of his standing in Nigeria. It could be recalled how Dickson would invite very important personalities from other geopolitical zones and states to commission some of his signature projects including ex-President Olusegun Obasanjo but ignored his State's man.
In addition, it was also rumoured that Jonathan had in his last visit to President Muhammadu Buhari (the purpose of which was kept secret) was to inform him of his support for the APC candidate.
Consequently, from the foregoing the stage was set for the eventual outcome of the Governorship election and marriage of convenience between the Jonathan camp of PDP in Bayelsa State and APC, which is led by his supposedly political enemy, former Governor and current Minister of State for Petroleum, Mr. Timipre Sylva.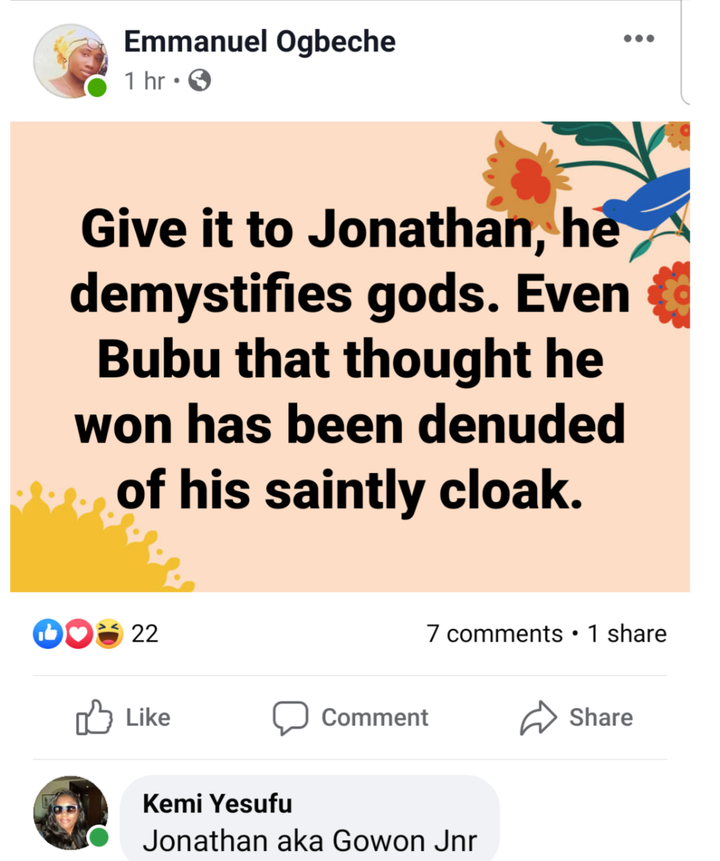 Also, an article written by Lord Varys entitled: 'Jonathan Taught Dickson A Lesson With Governorship Election In Bayelsa', summed up the realpolitik in the Ijaw heartland.
Varys wrote:
"For those who didn't follow the build-up to the Bayelsa elections. Dickson disrespected GEJ and the Bayelsa elders. They had settled on Alaibe as a consensus candidate to replace Dickson.
"Dickson who Jonathan brought out of obscure House of Reps and made Governor disrespected GEJ and PEJ and bribed Secondus to have his way in the primary and impose his cousin Diri on the party."
"Not only that he disparaged Bayelsa East- Jonathan's people (Ogbia, Nembe and Brass) as non core Ijaw and traitors. Whole thing has been building from senatorial elections which was why APC won GEJ's Senatorial district in the 2019 polls with his support.
"All GEJ's allies and boys moved to APC and David Lyon is a godson of Patience. Jonathan did not campaign for the APC candidate like his wife and mother out of self respect but his kinsmen ensured Dickson was taught a lesson without saying a word.
"Jonathan's polling unit, ward and senatorial district all delivered for Lyon. Wike and Jonathan and their allies all worked for Lyon. Irony of it is Dickson refused o reconcile and make any concessions saying he could win on his own. He was thoroughly defeated.
"All politics is local.
"In 2012 GEJ used Dickson to remove Sylva. In 2019, GEJ and PEJ worked with Sylva to remove Dickson. "
"The PDP national leadership is an embarrassment. Why would you let the interests of an underperforming governor who wanted to impose a stooge supersede that of the former president and party elders in a state who has shelved their interests to back the strongest candidate in the party Alaibe.
"Jonathan could have insisted on any of his loyalists like Igali being the candidate but he settled on Alaibe who was formidable and had the support of all. Obasanjo even joined Jonathan to beg Dickson and Secondus to let Alaibe get the ticket. But Dickson wanted his cousin.
"Bayelsa people hated Dickson particularly Bayelsa East(Jonathan's people) who Dickson called non core Ijaw. Core Ijaws are apparently according to Dickson the Sagbama/Ekeremor/Southern Ijaws of Bayelsa and the Bomadi/Burutu/Patani of Delta and as such only them should be in charge of the only Izon state"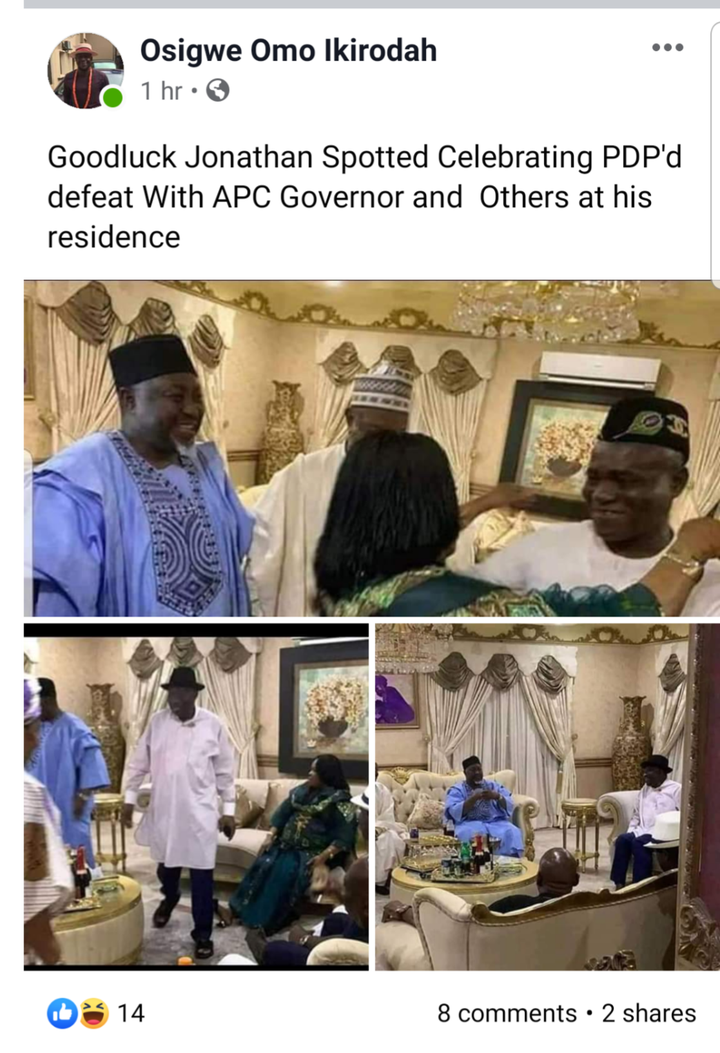 But despite all these reasons and calculations, one cannot help but wonder how politicians think and differ from ordinary folks. Even The Nation columnist, Mr. Sam Omatseye was caught in the web of this bewilderment as noted in his treaties below titled: 'Lyon's roar, Kogi's harvest'
He said: "IT is not often that a columnist waits for the news on deadline. For the outcomes of the Kogi and Bayelsa governorship polls, I had to comment on the strength of knowledge. So, my fingers dithered on the keyboard until I knew.
'The polls invoked paradoxes, and nothing excites a writer more than this. And we saw this at the weekend. For instance, everyone expected warfare in both Kogi and Bayelsa, but we expected Kogi's harvest to be a child's play compared to Bayelsa's lords of the flies, apologies to Nobel laureate William Golding. The creeks squeaked compared to the growls and bloodlust of Kogi land grabs."
"Kogi collapsed into fear and trembling. Ballot snatching, voter intimidation, gunshots, et al. It was a Hobbesian terrain. Those with the superior will to power must triumph. He who was bound to violence was bound to win."
"But Bayelsa's feast of paradoxes roils the mind. First, we heard the state governor's outburst of outcry. Normally, during elections, governors soar, while the opposition is sore. Optimism and self-pride tranquilise their situation rooms. There is often tension, but it is a tension of hope rather than despair. Their minds are like the words of Poet Samuel Coleridge that "anticipation is more potent than surprise."
"But when a governor does not only sulk, but makes an open play of his frustration, you know the game is up. When Governor Seriake Dickson started calling for polls cancellations in Southern Ijaw, Nembe and other local governments, it was obvious he knew that his candidate's face would not break into the smile of yesterday, that yesterday being when he triumphed, if controversially, in his party's primary. That is a historic irony."
"But it is a paradox because of the story of Oil Minister Timipre Sylva and former President Goodluck Jonathan. Who would have thought that Jonathan's people and Sylva will be smiling together over an election result in Bayelsa. We know what harm Jonathan did to Sylva, and how the lanky fellow was kangarooed out of power as governor and, as president, he mounted a campaign against him with an EFCC hound. The irony, too, would be a horde of PDP stalwarts grumbling that their former leader has defected at home to sup with the enemy. But that is the drama that Dickson has wrought in his home state. The man Dickson called his elder brother when Sylva was the enemy has now become a sibling disaster.
"The other historic irony is that David Lyon's victory in Bayelsa signals the first big fall of the PDP stronghold in the Niger Delta. Not Dickson, not all the oil money could hold the state for the PDP. Dickson's party was a prisoner of hope that fell in his own stronghold. The only man for the past decade who challenged PDP in the state has been Sylva. It looked like a hope against hope. But his fight has been a testament to tenacity, a man who glimpsed light where darkness fell and leapt into it. It was a tale of epic self-confidence sometimes put down as reckless."
"Now, he will laugh while his opponents would say, like Walt Whitman in his poem The Compost, "Something startles where I thought I was safest." Sylva has been a small man wrestling a giant for a decade. The big man brought Sylva down several times but his back did not graze the wrestling floor. The small man wearied the giant and, seeing the sweat, sagging muscles and despair of the hulk, Sylva took advantage and threw the giant in one fell swoop. That happened on Saturday."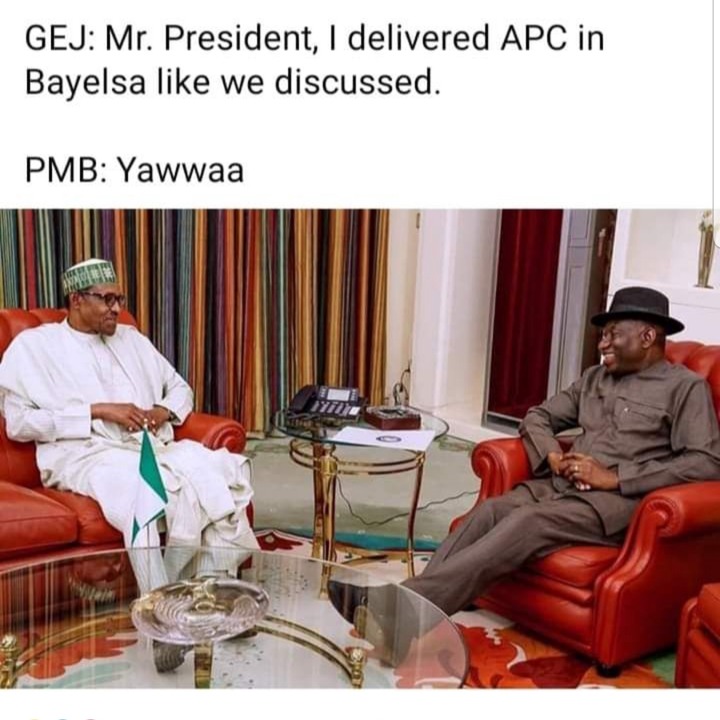 "Also ironic was that about four years ago, it was Sylva who was holding press conferences and making the case that he won the election but that Dickson and his men had corralled violence to undo his electoral fortunes. Dickson rallied the Ijaw nation as a mantra as though Sylva were a foreigner. The same Ijaw nation looked away from him and anointed Sylva's anointed. It is a saga of political revenge on the back of the people."
"In the election four years ago, Southern Ijaw Local Government Area was holding a huge chunk of the voters and the parties had to go through a rerun for two reasons: Its decisive tranche of voter count, and its dubious pride of place as a whirlwind of death, ballot snatching, gunshots, fights, brawls, et al. This time around, Southern Ijaw was a relatively tranquil story for Bayelsa."
"It is also a story of David Lyon known for philanthropy and large hand, as against a governor's reputation as a tight fist. His choice as APC candidate was a no-brainer in that respect. He was described in this column as the Li(y)on of his tribe because that is the root of David. He is known for his charisma and intense power of connection."
"His campaigns were moments of bonding with the crowd. He is also an oil magnate in his own rights, a man of wealth and the common touch."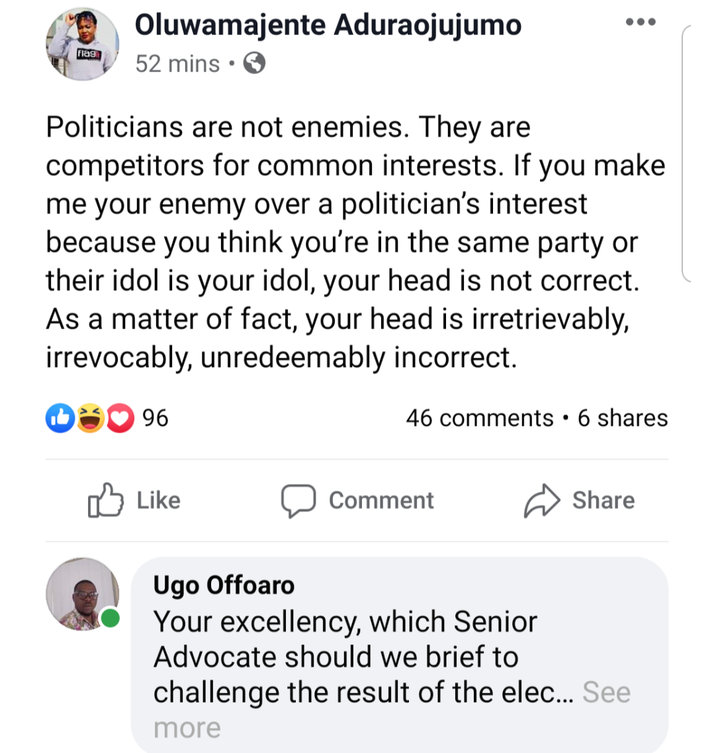 Also perplexed by this paradox, the activist, journalist and Chairman of Nigerian Union of Journalists, FCT Chapter, Mr. Emmanuel Ogbeche, while writing on his Facebook page said: "The irony in Bayelsa captured succinctly in Chinua Achebe's 'Arrow of God':

'Ulu had chosen a dangerous time to uphold that truth for in destroying his priest he had also brought disaster on himself…For a deity who chose a moment such as this to chastise his priest or abandon him before his enemies was inciting people to take liberties." (19.89)
Nevertheless, it is not yet uhuru as PDP supporters and sympathisers have vowed to challenge what they described as pyrrhic victory.
Also, some social media and political commentators have used the opportunity to advice supporters of opposing political divides to be tactful and learn from how supposedly political enemies easily bury their hatches to form alliances whenever their interests are collectively at stake.
Iroegbu, is Media Practitioner and Public Affairs Analysts
Credits| OperaNews