Godsgift Onyedinefu
Musa Isa Salmanu Rtd, a former Military officer and seasoned expert in international peace, security and conflict resolution has declared interest to contest as a member of the Kaduna State House of Assembly, Makera Constituency in the forthcoming 2023 general elections.
Salmanu, who retired from the military as a Wing Commander in the Nigeria Air Force has bagged many awards locally and internationally for his peacekeeping and peacebuilding roles across Africa and the rest of the world. With over 25 years of practical and theoretical experience in education, international peace and security, conflict resolution, peacebuilding and development; he has extensive experience working with international, regional and national level organizations in Nigeria, the Democratic Republic of Congo and Kenya where he served in the Nigerian Air Force, UN peacekeeping operations and ECOWAS amongst others. 
As a veteran of the Nigerian military, he also has experience working with donor organizations, youth programs, national-level NGO leadership and liaison experience with governments at all levels. Volunteers with Teach for Nigeria (an affiliate of Teach for All) and the Kaduna State Scholarship Board on addressing challenges of education in underserved communities, Early Childhood Education. 
Salmanu noted that his desire to pursue a political ambition at the state House assembly is borne out of the need to serve the people at the grassroots level. "I want to start from the grassroots and move upwards. For me the journey into politics and community service is not a sprint but a marathon," he had said.
The Ex-Military Officer has also been described as the most suitable man for the position due to his wealth of experience and vision for the good people of Makera. Another Military officer Captain Sadeeq Shehu said Salmanu has all it takes to gun for an even higher position in the upcoming elections. 
"I endorse it!!! New kids on the block. As someone who knows, has worked with and mentored him, I have no hesitation whatsoever in recommending Wing Commander Musa Isa Salmanu Rtd to the good people of Makera Kaduna. Prodigious intellect, change-maker, grass root community builder, first-rate military brain, an internationally recognized and respected former military officer and humanitarian worker and trainer, you name it, Musa has done it. A multiple international award winner recognized across the Atlantic. Musa is a King's College London African Leadership Centre fellow, a programme designed to build a new community of leaders generating cutting edge knowledge in peace, security and development in Africa", Musa wrote on his official Facebook page. 
"He is also an Eisenhower Fellow a program which identifies, empowers and connects innovative leaders through a transformative fellowship experience and lifelong engagement in a global network of dynamic change agents committed to creating a world more peaceful, prosperous and just. With his accomplishments, Musa can gun for any office in the land. On a final note, and without meaning to embarrass Musa, I will be a little indiscrete to say Musa is a much sought after international consultant since leaving the military, he is taking a massive massive pay cut for this foray into politics….that's how much Musa wants to serve. Makera people take him!!!," he added. 
Professional highlights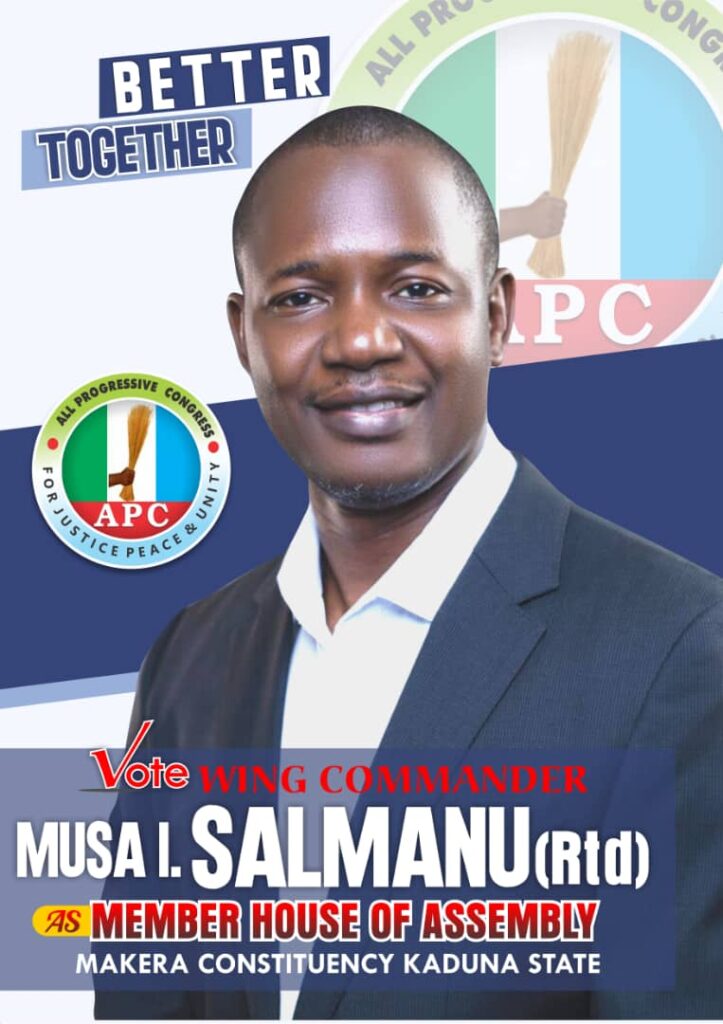 Salman is an International Expert on Humanitarian Law and the Protection of Civilians in Conflict. He served as Acting Country Director, Nigeria/Senior Military Advisor, Africa Region, Center for Civilians in Conflict, from Oct 2018 – Nov 2021. He was also a Humanitarian Development Officer, Irish Aid, Embassy of Ireland, from Oct 2017- Oct 2018.
Salman is an expert on Mission, United Nations Organisation Stabilisation Mission in the Democratic Republic of Congo (MONUSCO), 2010 -2012; an African Leadership Center Peace and Security Fellow, Economic Community of West African States (ECOWAS) 2009-2010, among several others.
Educational Qualification
Salman has a Master of Military Operational Art and Science – Air University, United States Air Force
Montgomery, Alabama, USA. (2015); Masters of Arts, Conflict Security and Development – King's College London (Pass with Merit) (2010); Masters of Science, Political Science – Ahmadu Bello University Zaria. (2009).
He has also bagged a Post Graduate Diploma in Advertising and Public Relations – International Institute of Journalism. (2008) and BSc Political Science and Defence Studies – Nigerian Defence Academy (Second Class Upper). (2001).