•President Vladimir V. Putin was set to address the nation late on Monday after an extraordinary meeting of Russia's Security Council. The U.S. and its allies have warned that Russia could use such a recognition to move more forces in.
The Kremlin said Monday that President Vladimir V. Putin would recognize the independence of two territories in Ukraine controlled by Moscow-backed separatists, further escalating tensions in what Western nations fear could lead to one of the biggest conflicts in Europe since World War II.
The announcement was made by the Kremlin in a statement summarizing Mr. Putin's phone calls on Monday with President Emmanuel Macron of France and Chancellor Olaf Scholz of Germany.
"The president of Russia said that he intended to sign the relevant decree in the near future," the Kremlin said. "The president of France and the Federal Chancellor of Germany expressed their disappointment with this development. At the same time, they indicated their readiness to continue contacts."
Mr. Putin was expected to deliver an evening address to the nation later on Monday.
His phone calls with the German and French leaders came after an extraordinary session of the Russian Security Council at which Mr. Putin accused the U.S. and its allies of using Ukraine "as an instrument of confrontation" with Russia, and said it posed "a serious, very big threat to us."
The move is a high-stakes gambit by Mr. Putin that threatens to engage Russia and Ukraine in a deadly military conflict while sharply escalating Moscow's conflict with the West.
The separatist enclaves claim all of Ukraine's eastern Donetsk and Luhansk regions as their territory, while controlling only about one-third of them. Russia has conducted an enormous troop buildup to Ukraine's north, east and south, which Western officials say could be used to conduct a large-scale invasion.
Earlier on Monday, Russian state television showed video of the Russian-backed leaders of separatist territories in eastern Ukraine appealing directly to Mr. Putin to recognize their independence. Russia's lower house of Parliament passed a resolution making such an appeal to Mr. Putin last week.
US still sees an invasion as imminent, dimming hopes for a Biden-Putin summit
A Ukrainian army frontline position in Krymske, in eastern Ukraine.Credit…Tyler Hicks/The New York Times
Top American officials said on Monday that a Russian invasion of Ukraine remained imminent amid continued troop movements, propaganda and bellicose language from Moscow, suggesting that prospects are dim for a summit between President Biden and President Vladimir V. Putin in the days ahead.
Jake Sullivan, Mr. Biden's national security adviser, said on NBC's "Today Show" that the president is willing to "go the extra mile on diplomacy," but added that "every indication we see on the ground right now in terms of the disposition of Russian forces is that they are in fact getting prepared for a major attack on Ukraine."
Mr. Putin ratcheted up tensions further Monday morning during a meeting of his Security Council, announcing that he would decide by day's end whether to recognize two breakaway Ukrainian regions as independent states. At the same time, Russian media broadcast claims of assaults by Ukrainian forces, charges that Ukrainian military leaders forcefully denied.
American officials have repeatedly predicted that the Russian military would stage false attacks on their own forces as a way of providing Mr. Putin a pretext to go to war.
Mr. Biden agreed "in principle" on Sunday to a proposal by President Emmanuel Macron of France for a summit with Mr. Putin. But numerous White House officials said that such a meeting in the coming days was "notional" at best, and would not happen if Russian forces cross the border into Ukraine.
Two senior administration officials said Monday that there had been no change in that thinking overnight, and that there have been no discussions about the format, timing or location for such a meting.
Sergey V. Lavrov, the Russian foreign minister, also downplayed the immediate prospects for a summit, saying on Monday that "before we meet, especially in such a heated atmosphere, it's important to understand how these summits and meetings will end."
For Mr. Biden, the idea of a summit could showcase his willingness to embrace diplomacy rather than war. But a high-profile meeting with Mr. Putin is fraught with risk, especially if Russia subsequently went ahead with an invasion. And there is little that Mr. Biden could offer Mr. Putin without appearing to abandon Ukraine or NATO allies in the process — something that the United States has emphasized that it will not do.
Summit meetings are usually highly choreographed events, with outcomes negotiated in advance. So at best, no meeting between the presidents could happen until Secretary of State Antony J. Blinken and Mr. Lavrov laid the groundwork during a meeting between them planned for Thursday — if Russia does not begin an invasion before that time.
Senior Western officials said on Monday that Russian forces surrounding Ukraine are moving quickly into positions where they are poised to attack once given an order to do so. The numbers of Russian troops surrounding Ukraine also continues to grow, they said, with some 110 battalion tactical groups of about 1,000 soldiers each.
About two-thirds of those groups are within 50 kilometers, or 31 miles, of the Ukrainian border, and about half of those have been deployed tactically, out of staging areas, ready to attack, the officials said.
Ukraine seeks an emergency meeting of the UN Security Council

The United Nations Security Council meeting in New York to discuss the situation between Ukraine and Russia last Thursday.Credit…Carlo Allegri/Reuters
As Western fears of a Russian invasion intensified, Ukraine said Monday it had requested an urgent meeting of the U.N. Security Council to discuss ways to guarantee its security and de-escalate the crisis with Russia.
The request, which was announced by Foreign Minister Dmytro Kuleba, came as President Vladimir V. Putin of Russia was weighing whether to recognize two breakaway regions of Eastern Ukraine, which could help lay the groundwork for Russian military forces to pour into Ukrainian territory. If Mr. Putin decides to invade Ukraine, it could mark one of the biggest conflicts in Europe since World War II.
"I officially requested UNSC member states to immediately hold consultations under article 6 of the Budapest memorandum to discuss urgent actions aimed at de-escalation, as well as practical steps to guarantee the security of Ukraine," Mr. Kuleba said in a Twitter post.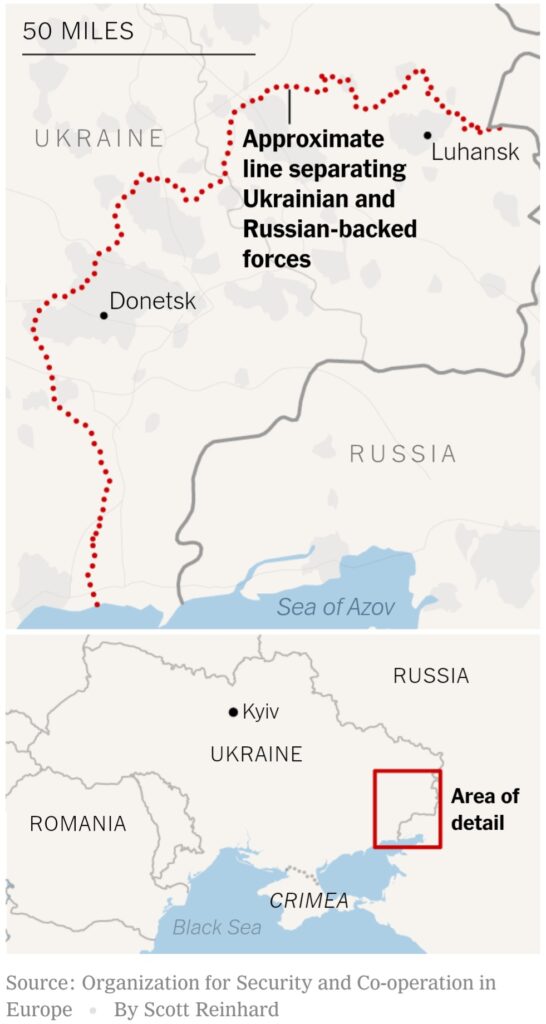 The Budapest memorandum refers to a 1994 agreement under which Ukraine, Belarus and Kazakhstan, former republics of the collapsed Soviet Union, gave up their stockpiles of Russian nuclear weapons from the Cold War era and joined the Non-Proliferation Treaty in exchange or security guarantees. The efficacy of the agreement has long been called into question, however. Ukraine and Western nations have said Russia grossly violated the agreement in 2014 by seizing Ukraine's Crimean peninsula.
It was not immediately clear when or even whether Ukraine's request would be taken up by the 15-member Security Council. Russia, one of the council's five veto-wielding permanent members, is president of the council for February under a rotating schedule.
—
Why it matters if Russia recognizes Donetsk and Luhansk
A woman at the border crossing between Russia and the separatist Donetsk People's Republic in Avilo-Uspenka, Russia, on Saturday.Credit…Sergey Ponomarev for The New York Times
President Vladimir V. Putin of Russia said he is close to a decision on whether to recognize the independence of two separatist regions in Ukraine, a possible move that analysts fear would be the spark for a Russian military intervention against Ukraine.
If Russia recognizes the two regions, the so-called Donetsk People's Republic and Luhansk People's Republic, it could allow separatist leaders to request military help from Russia, possibly paving the way for a military offensive, Ukrainian officials say. Ukraine would likely interpret that as Russian troops entering Ukrainian territory.
The conflict in the separatist regions began in 2014, when rebels loyal to Russia seized government buildings in Donetsk and Luhansk, beginning a long trench war with Ukrainian forces. More than 13,000 people have died in fighting in the region since.
Credit | NYT