•New satellite images show troops and equipment massing ever-closer to Ukraine
Russia is engaged in the largest military build-up in Europe since the cold war. It has demanded that nato pull back from eastern Europe and rule out Ukraine joining the alliance. Weeks of diplomacy have produced little. On February 11th Jake Sullivan, President Joe Biden's national security advisor, warned that "the threat is now immediate". Mr Biden reportedly phoned European allies to tell them that an attack was likely.Around 100 Russian battalion tactical groups—fighting formations of 1,000 or so troops, accompanied by air defence, artillery and logistics—have gathered on Ukraine's borders with Russia and Belarus. The build-up has entered a new phase. Russian units are heading from large bases into staging areas near the border. Troops are moving to link up with their equipment. Vital enablers for war, like field hospitals and engineering units, are being put into place. All of this is visible. America and its nato allies scrutinise Russia's mobilisation using spy satellites, surveillance flights and other means of gathering intelligence.But in the 21st century, others are watching, too. Open-source intelligence, known as osint, is a flourishing field. Journalists, researchers and amateur enthusiasts use commercial-satellite imagery, videos posted on social media, ship and aircraft-tracking websites and other publicly available sources to see military forces moving and massing, nearly in real time. These techniques are being applied to the Russia-Ukraine crisis.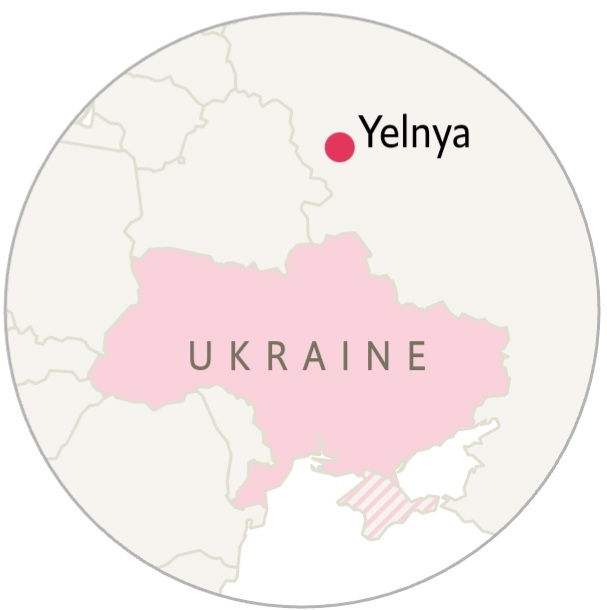 To understand why the build-up now looks more threatening, start with Yelnya, a base 125km from Russia's border with Belarus, normally home to the 144th Guards Motorised Rifle Division. In November last year Yelnya began to fill with equipment from the 41st Combined Arms Army, a high-level formation that typically includes several divisions and is based more than 3,000km away in Siberia. According to Janes, a defence-intelligence firm, satellite images taken in late January showed troops had begun to occupy the tents. Internal heating melted the snow on top; the surrounding ground turned into a muddy slush, indicating heavy footfall (move the slider below to see the change).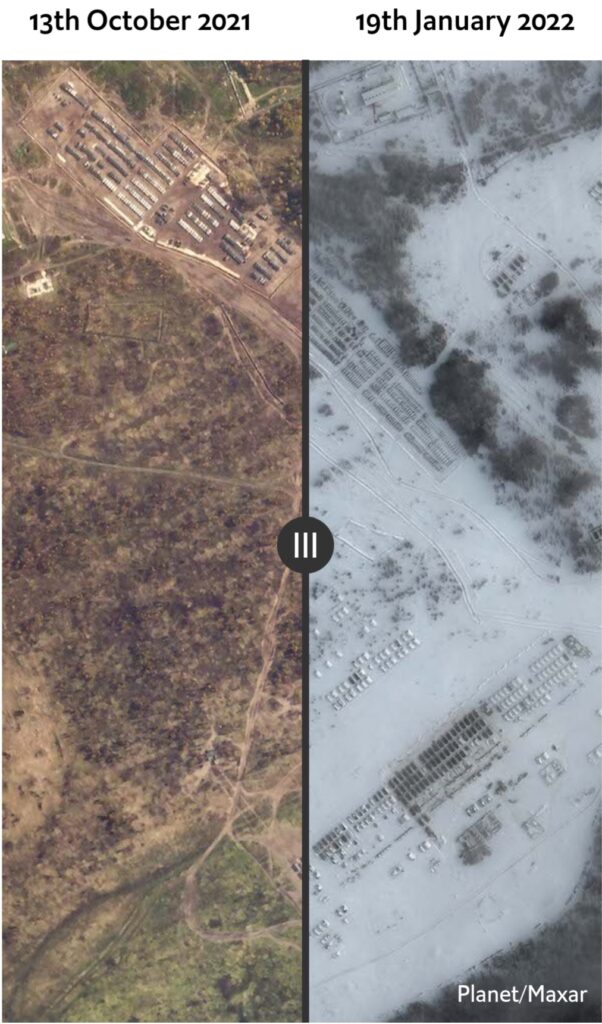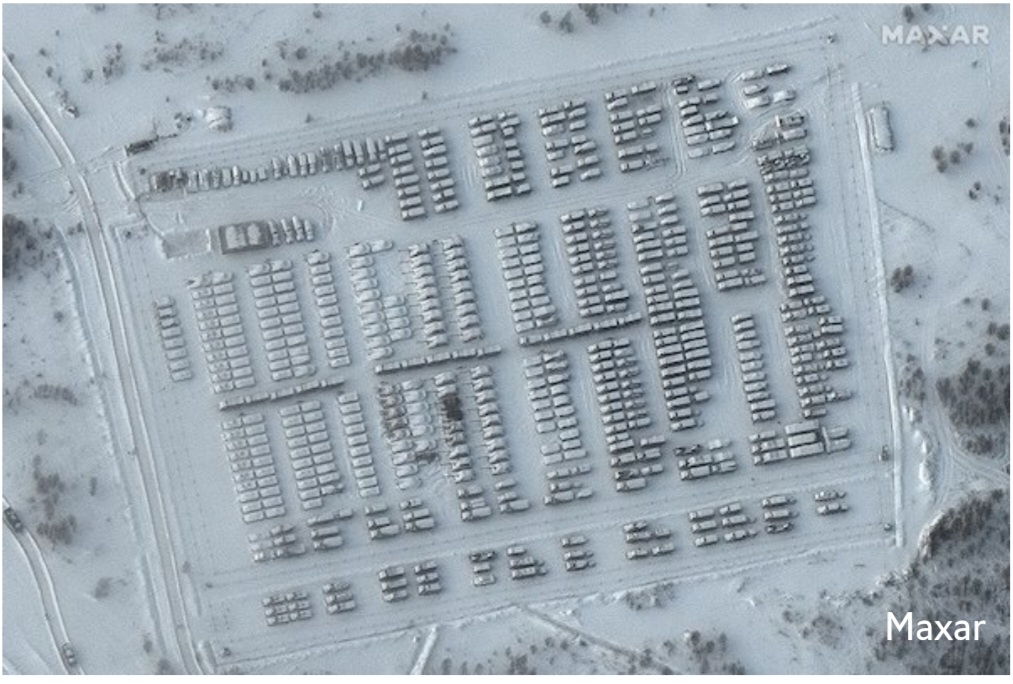 The left of this image probably shows two battalions of infantry fighting vehicles, says Tom Bullock, an analyst at Janes. To their right, with their long barrels visibly protruding, are two battalions of the 2S19 Msta, a self-propelled howitzer.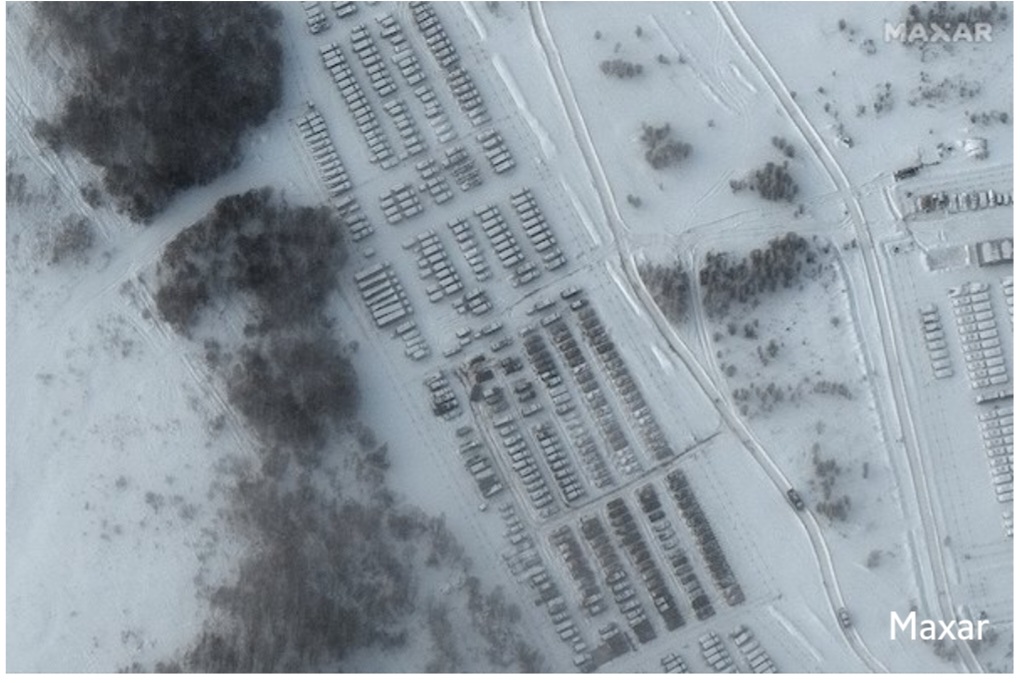 At the top left, we can see a battalion of the bm-27 Uragan, a self-propelled multiple-rocket-launcher system, says Mr Bullock. At the bottom right are likely main battle tanks, with external fuel drums attached to the rear.Now Yelnya is emptying out. It is doing so under the cover of cloud, out of sight of normal optical satellite imagery. But as The Economist explained in a recent Technology Quarterly, synthetic-aperture radar (sar) satellites help to get around this problem. The European Space Agency's Sentinel-1 sar satellites make images of every spot in Europe every six days. The results are grainy, meaning individual vehicles or buildings cannot be picked out. But man-made structures reflect radar waves from SAR satellites particularly well. Here, they have been coloured purple. That allows us to see the dramatic change at Yelnya between January 23rd and February 4th.

The 41st Combined Arms Army is moving south, towards the Ukrainian border. An anonymous open-source analyst, who tweets under the name @danspiun, told The Economist how he and others discovered this. Russian drivers are enthusiastic users of cameras fitted to their dashboards, to capture traffic accidents. In recent weeks, handheld cameras and these have recorded military equipment being moved by road and rail—images that are then shared online.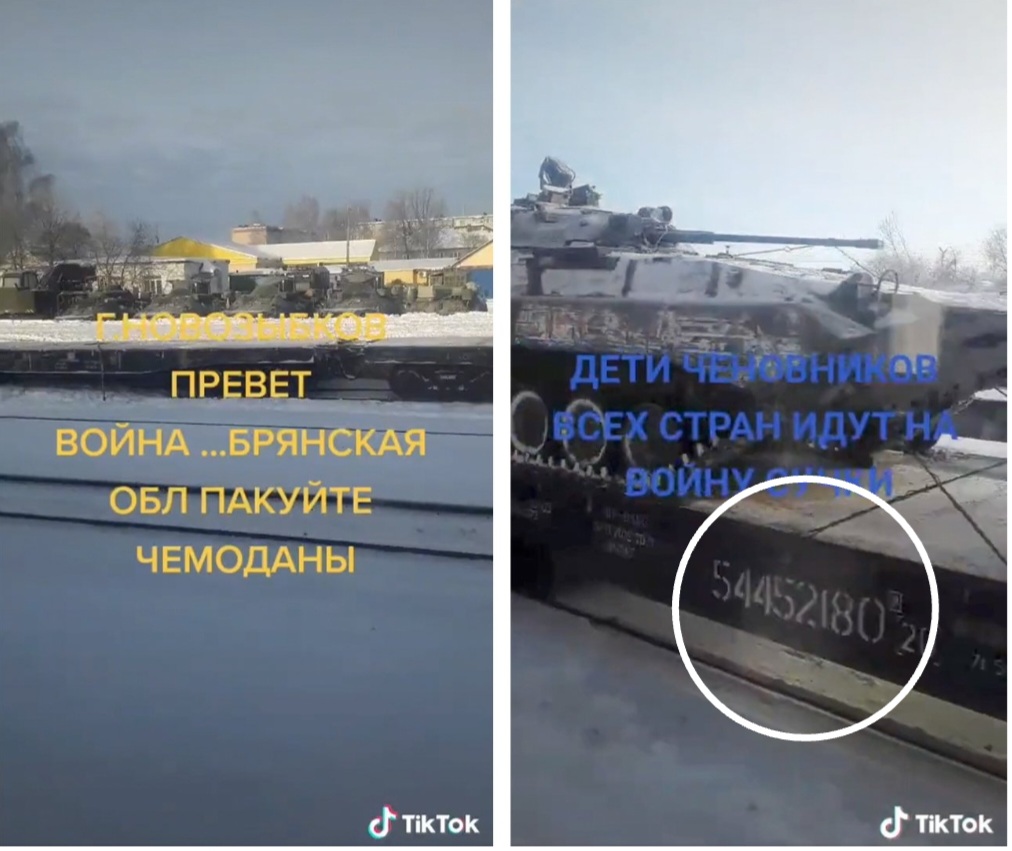 One video clip (left) posted on TikTok shows equipment at a station. The background allows it to be "geo-located" to Novozybkov station in Bryansk, around 35km from Ukraine's border. In a second clip (right) another train laden with armoured vehicles is visible at the same station, some of its carriages decoupled. An eight-figure number emblazoned on the train can be cross-referenced with a website that tracks railway movements. The train began its journey in Yelnya—the camp being emptied—and travelled to Novozybkov.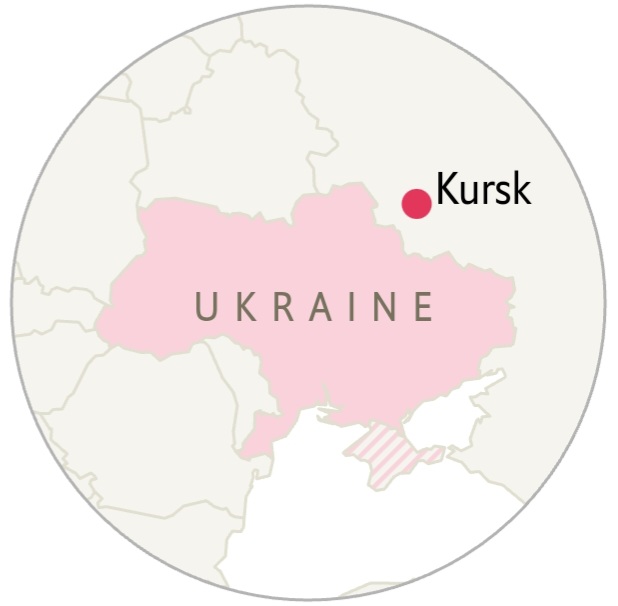 As yelnya empties and new units arrive from all over Russia, Ukraine's eastern border is growing thick with Russian forces. Consider the western city of Kursk, famous for a second-world-war German-Soviet tank battle. One of the units involved in that fight was the 1st Guards Tank Army, the Russian army's premier offensive formation, based near Moscow. Elements of that army were spotted on social media, west of Kursk, last week. Other units are also turning up at a training area to the east of the city, thought to house the 6th Combined Arms Army. Henry Boyd of the International Institute for Strategic Studies, a think-tank in London, suggests that the new arrivals seen below might be elements of the Northern Fleet's 200th Motor Rifle Brigade, normally based in Murmansk, a port near the Finnish border.
In this satellite photo from February 10th, new tents and housing for troops are visible. The lack of snow on the roof suggests that the building is heated and ready for troops or already housing them.
Russia's build-up continues. This image shows heavy-equipment transporters—lined up at the bottom left—that have recently taken additional vehicles to Kursk.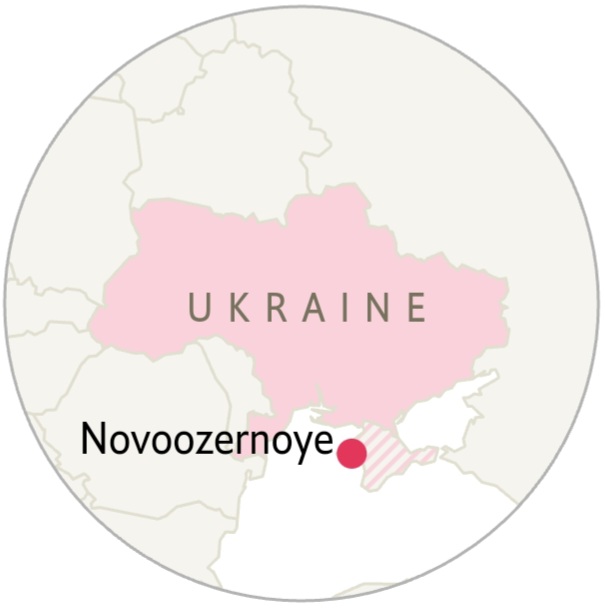 Russia invaded and annexed Crimea, Ukraine in 2014. The satellite images below show how a camp at Novoozernoye, on the north-west coast—and probably home to the 58th Combined Arms Army—jumped in size between September and early February. More recent photos, from February 9th, show a surge in forces over the preceding 24 hours. In another image of the same site, artillery pieces can be seen churning up the ground in training. To the south, out of shot, are the glimmering waters of the Black Sea, where Russia is assembling a large naval force, including landing craft.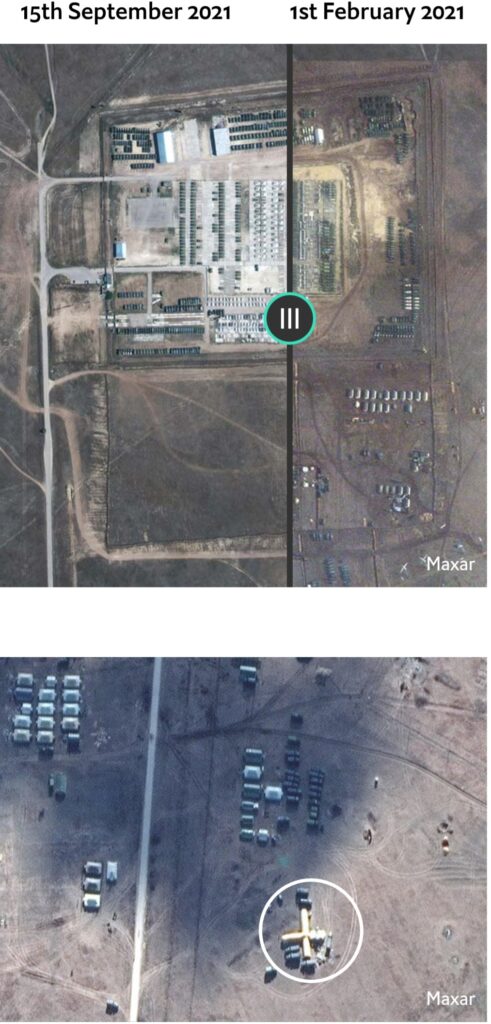 A new garrison has appeared to the south. This shows not just housing, but also a suspected field hospital—the cross-shaped tent. Armies sometimes set up hospitals during exercises. But Rob Lee of King's College says that field hospitals popping up in different regions around Ukraine is "certainly abnormal".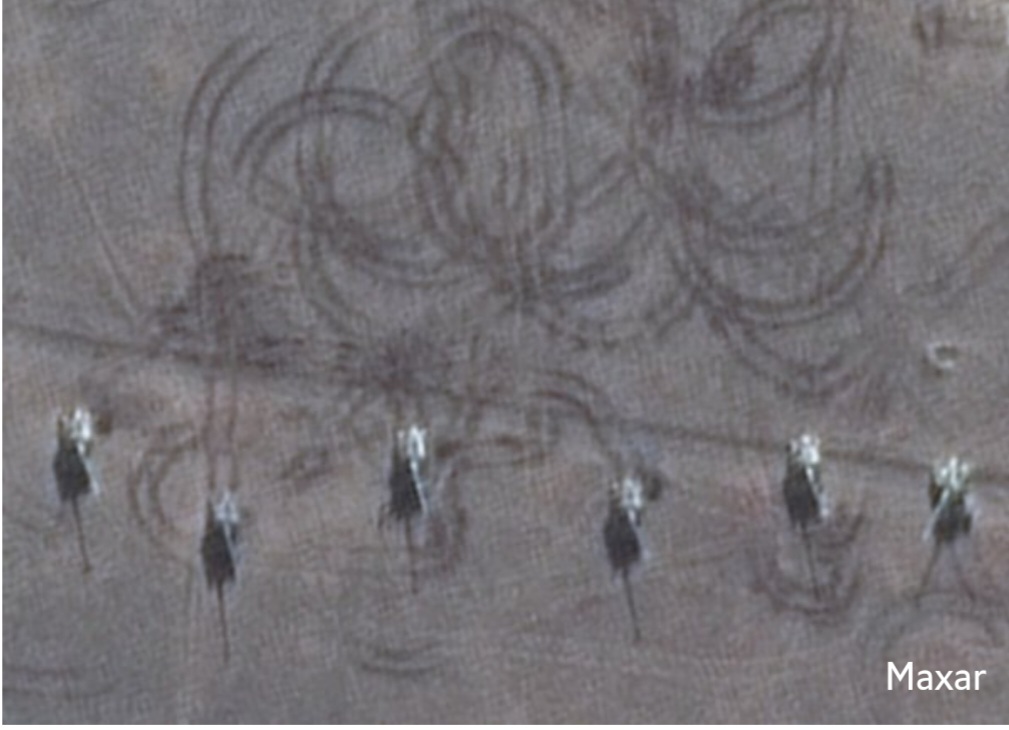 Russian artillery pieces can be seen leaving tracks in the ground during training. Russia's army has more than 4,600 artillery weapons of different kinds; Ukraine is thought to have fewer than 2,000.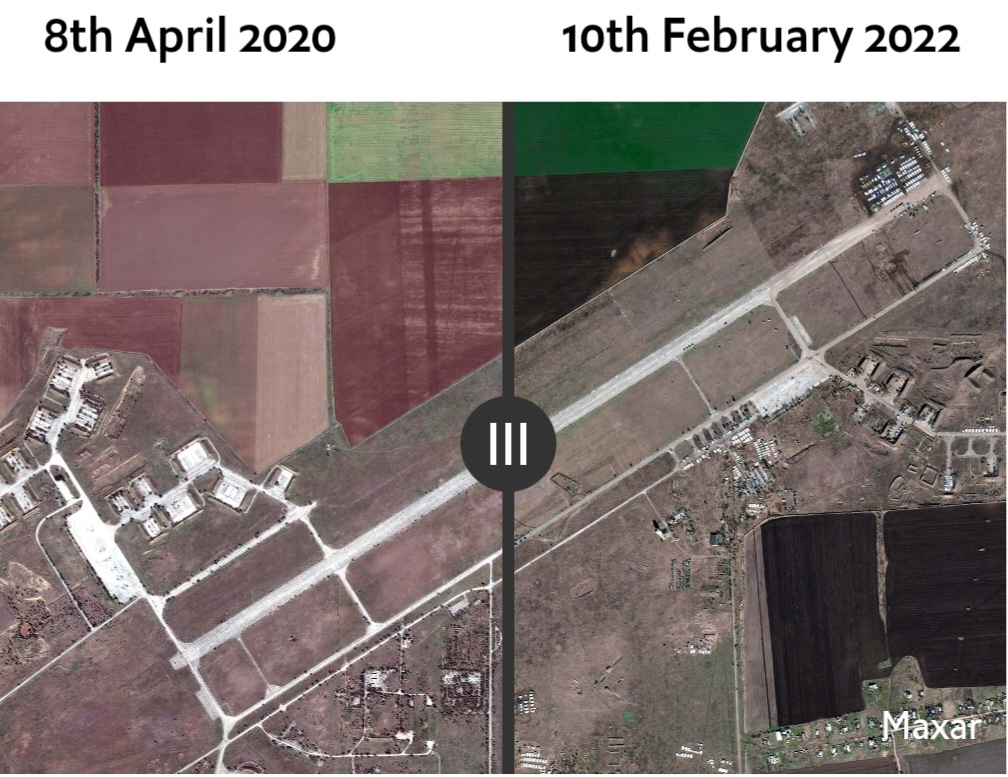 In Oktyabrskoye, in the middle of the Crimean peninsula, a huge camp has sprouted at a disused airfield. It now appears to hold the better part of a brigade. Personnel tents have been deployed in former aircraft shelters and along the tarmac.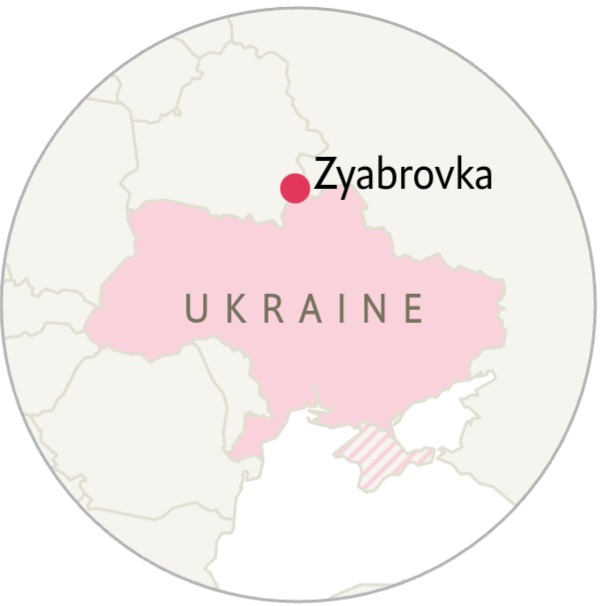 Ukraine is essentially ringed on three sides, because of a large Russian build-up in Belarus. "Allied Resolve", a hastily-announced Russia-Belarus exercise—more likely cover for troop movements—began on February 10th and is due to end on February 20th. As many as 30,000 Russian troops may be involved, according to nato. Some are alarmingly close to Ukrainian soil. Zyabrovka, around 25km from the border, is another disused airfield which has become a swarm of activity.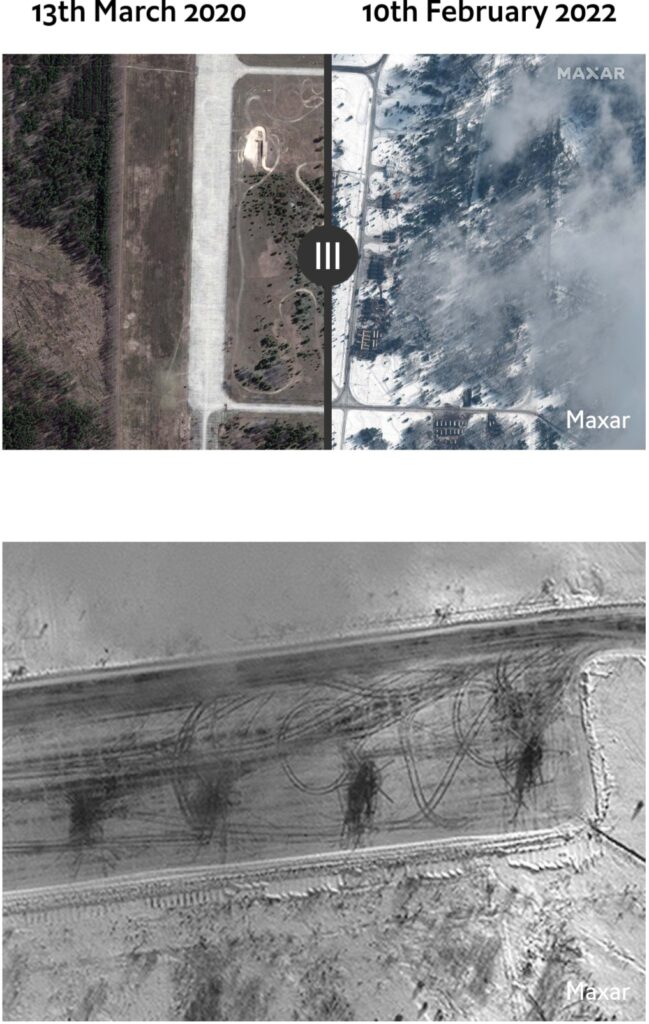 Helicopters at Zyabrovka. The airfield appears to be host to a battalion tactical group of the vdv, Russia's airborne forces, suggests Mr Boyd. The vdv's paratroopers would probably be at the vanguard of any offensive.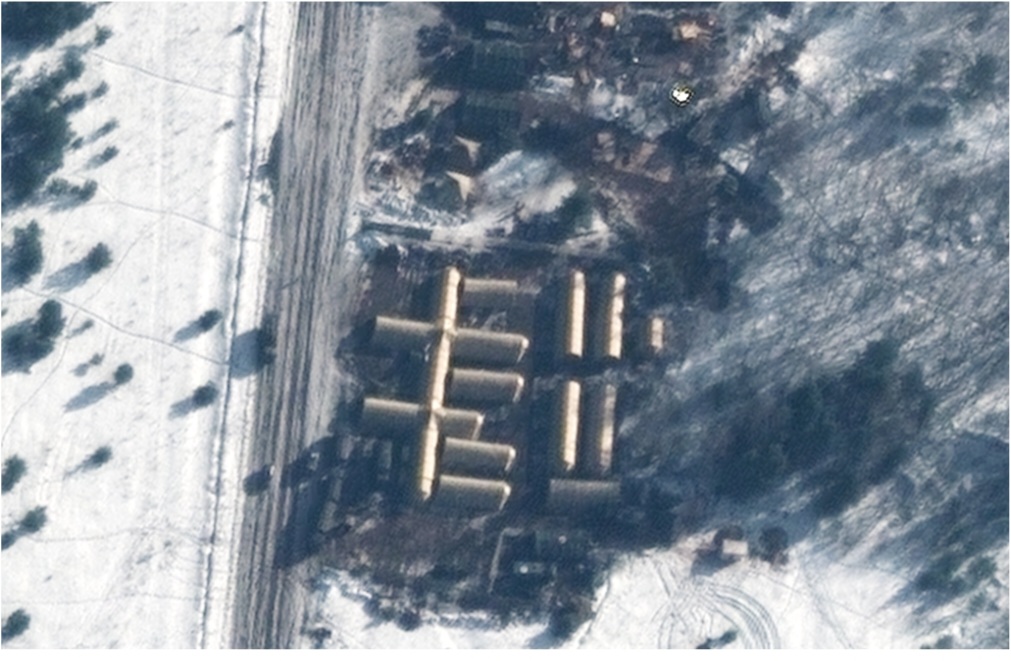 The double-cross shape here, larger than the one at Novoozernoye, is probably another field hospital. The shape is almost identical to those set up by the Russian armed forces elsewhere. Alongside it is more housing for troops.Little more than 50km to the east, even closer to Ukraine, is Rechitsa. Videos and photos on social media have shown sprawling fields of Russian tanks, formidable air defences and even a karaoke party for soldiers under falling snow. Satellite images from February 9th show how Russian vehicles have been training in the snow, leaving spidery trails.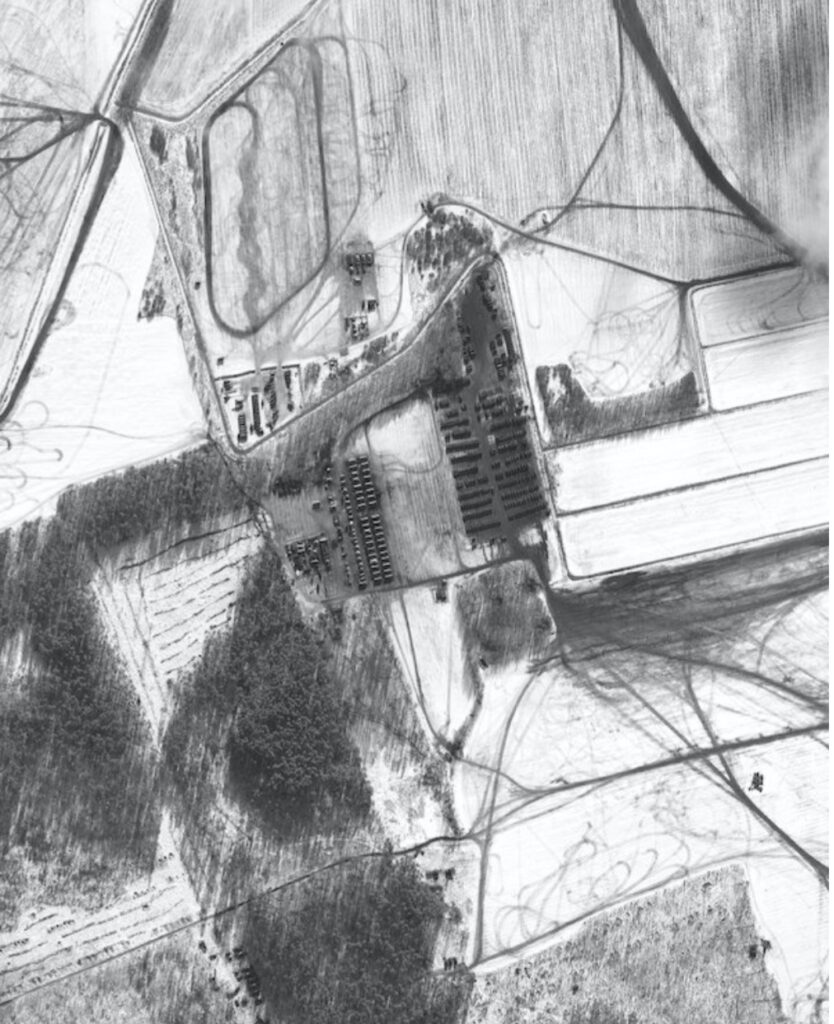 taken together, these satellite images show that Ukraine is now ringed by Russian forces to its north, east and south. That gives the Kremlin options: a thrust into the Donbas region of eastern Ukraine to support Russian proxies there; a deeper attack along Ukraine's southern coast all the way to the Dnieper river; punitive raids against Ukraine's armed forces—or even a drive all the way to Kyiv. On February 11th America urged its citizens to leave the city within 48 hours. As Antony Blinken, America's secretary of state, noted on the same day: "We're in a window when an invasion could begin at any time."
Sources: Maxar Technologies, Planet, International Institute for Strategic Studies, Janes, Rochan Consulting, The Economist
Credit | The Economist