Jude Johnson
In a strategic move aimed at enhancing the comprehension of geopolitical dynamics and their repercussions in Africa from a global standpoint, Senator Iroegbu, founder and editor-in-chief of Global Sentinel, and Dakore Ekpendu, host and producer of Public Intel Security Africa, paid a visit to Dr. Joseph Ochogwu, Director-General of the Institute for Peace and Conflict Resolution (IPCR), in Abuja on Friday.
IPCR, renowned for its contributions to peace research and conflict resolution strategies, welcomed the Geopolitics Series conveners to its Abuja headquarters, setting the stage for an exciting collaboration. This partnership aims to bridge the gap between global issues and the African continent, offering a multidimensional approach to engage a diverse audience in meaningful conversations.
Dr. Joseph Ochogwu, who recently assumed leadership at IPCR, expressed enthusiasm for the innovative partnership. He highlighted the dynamic nature of global geopolitics and its potential impact on peace and stability. Ochogwu applauded the initiative's multidimensional approach and its potential to engage a diverse audience in meaningful conversations about complex global issues.
"I believe in open doors and collaboration. I commend your passion, commitment, and efforts towards the vision and mission of the Geopolitics Series. They align with the objectives of IPCR and are open to partnership in this regard," Ochogwu stated.
Senator Iroegbu, visionary behind Global Sentinel and Geopolitics Series, shared insights on the growing need for comprehensive security awareness in an interconnected world. He emphasized the Geopolitics Series' potential as a vital tool for policymakers, scholars, journalists, and concerned citizens seeking accurate information on pressing global issues.
"We believe in collaboration, shared partnership, and the axiom that 'together we can go far'. This is more so as we share similar objectives towards peace, security, and development. IPCR is the apex agency for peace and conflict resolution in Nigeria which also aligns with Geopolitics quest for global peaceful coexistence and shared development," Iroegbu expressed.
Dakore Ekpendu, host and producer of Public Intel Security Africa, discussed her vision for accepting the role of co-convener of the Geopolitics Series. She underscored the media's power in disseminating critical information and shaping public discourse. She expressed excitement about "collaborating with IPCR to create a platform that blends insightful analysis with accessible content, making geopolitics comprehensible to a wide range of audiences."
Photospeak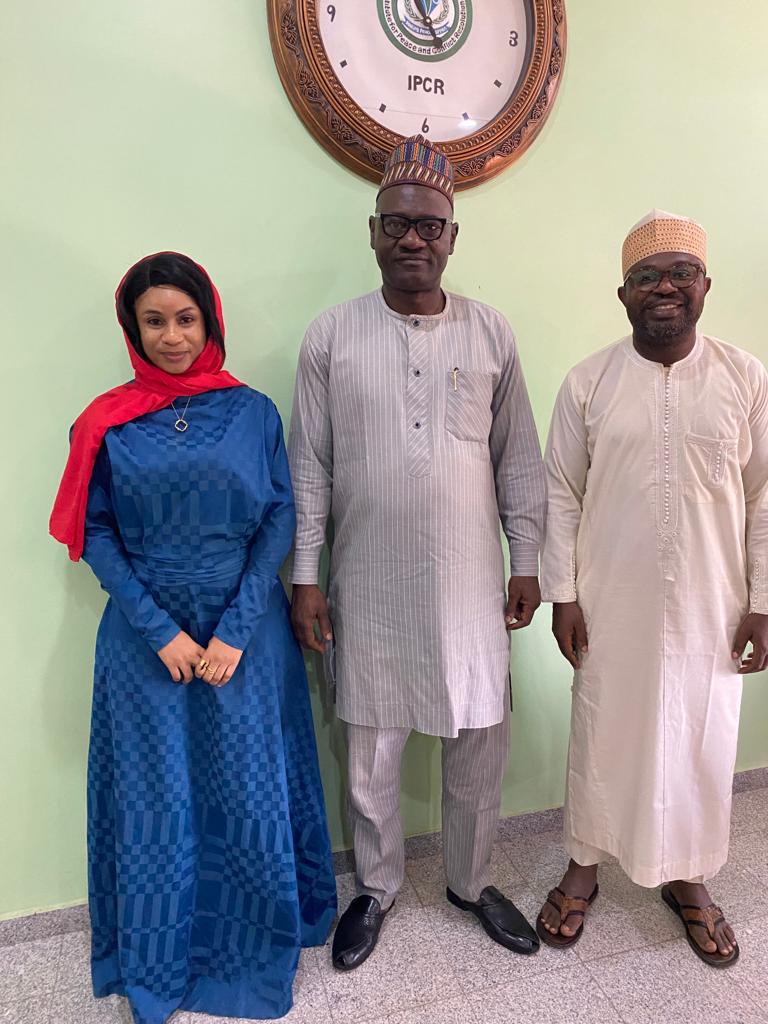 L-R: Co-convener, Geopolitics Series, Ms. Dakore Ekpendu; Director-General, IPCR, Dr. Joseph Ochogwu; and Convener Geopolitics Series, Senator Iroegbu
The upcoming Geopolitics Series, a collaborative effort between IPCR, Ayanda Media Network, Public Intel Security Africa, and Global Sentinel, will involve a series of discussions through webinars and written analyses. Experts from various fields will provide solutions to multifaceted perspectives on topics such as international relations, security, diplomacy, and global analysis.
This initiative represents a significant step in merging academia, media, and advocacy to foster a holistic understanding of geopolitics. The Geopolitics Series aims to empower individuals with knowledge to navigate an increasingly complex global landscape by creating an inclusive space for dialogue and information sharing.
As the courtesy visit concluded, all parties reaffirmed their commitment to the Geopolitics Series' success and the broader mission of promoting peace and understanding through informed discourse. The series, set to be the third episode this year, marks a substantial stride in addressing the intricate relationship between international politics and African issues.