Mukaila Ola
The Federal Government has disowned a trending travel advisory contained in a statement with Ministry of Foreign Affairs letter headed paper.
In the alleged fake press release allegedly signed by Esther Sunsuwa, the Ministry of Foreign Affairs was said to have advised all intending Nigerian nationals wishing to travel to Belarus, Poland, Slovakia, Hungary, Romania and Moldova to put their trip on hold until the month ending May 2022, claiming that their embassies and consulates have stopped issuance of visa with immediate effect.
The disclaimed statement written on 18th February further said it was "necessary to abide to the above, is the war alert from the world power to its citizen to leave those countries within 48 hours."
The Esther Sunsuwa signed fake press release further read: "The fact is due to the unhealthy war alert that the world powers have given which may likely breakout unforeseen war, without further notice.
"Also, Nigerians proceeding/ intending to enter the above neighbouring named countries, between Russia and Ukraine should avoid such unbearable risk."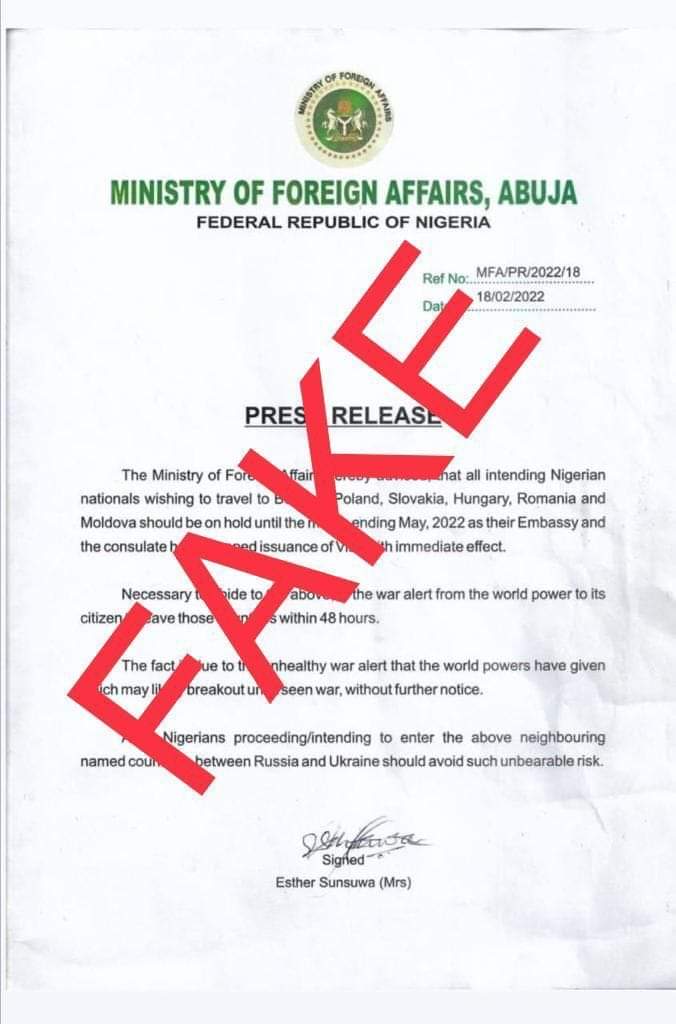 In the disclaimer on Tuesday, the spokesperson of the Ministry of Foreign Affairs, Mrs. Francisca Omayuli, said that the document with forged reference number and signature did not emanate from the ministry.
Omoyuli's statement read: "The attention of the Ministry of Foreign Affairs has been drawn to a fake press release in circulation, dated 18th February 2022, on a supposed travel advisory.
"The general public may wish to note that the document with forged Reference Number and signature did not emanate from the Ministry. The Ministry strongly condemns this mischievous act and urges the general public to disregard the content of the fake press release. Furthermore, the document in circulation is not a true reflection of the authorized template of the Ministry".
She disclosed that the Ministry's authorized Press Statements are always issued through official communication channels with the media and on all the social media platforms.