•INEC ECOWAS Commission over dialogue with political parties
Jude Johnson
The Economic Community of West African States (ECOWAS) Commission has warned that Nigeria cannot afford not to conduct peaceful and credible elections in 2023 as a lot is at stake even within the sub-region should the country fail.
This is even as the Independent National Electoral Commission, hailed the Commission over its dialogue with leaders of political parties towards peaceful 2023 general elections, describing it as very commendable
The ECOWAS Commissioner for Political Affairs, Peace and Security, Amb. Abdel-Fatau Musah, who was represented by ECOWAS Commission Programme Officer on Mediation, Directorate of Political Affairs, Dr. Brown Odigie, stated this on Tuesday at the ongoing Dialogue and Mediation Training for political actors as Tools for Preventing and/or Mitigating Election Related Disputes and Violence", in Jos, Plateau State.
The 4-day training and interactive workshop, which is the third in the series is geared towards violent-free 2023 general elections in Nigeria with the enhancement of participants' dialogue and mediation tools and platforms for addressing contentious issues, thus contributing to the prevention and mitigation of election-related conflicts and violence before, during, and after the polls. It had participants from the Inter-Party Advisory Council (IPAC) cutting across the North-Central and North-East geopolitical zones of the country.
Musa advised that Nigeria must create space for inclusiveness in the electoral processes and ensure a peaceful election because of its very strategic position in the region. He noted that Nigeria's enormous population is working tirelessly to ensure that the electoral processes are done peacefully to avoid anything that can lead to conflict, warning that the region cannot contain potential refugees
According to the Commission, the interactive engagements by political actors and stakeholders are critical in electoral processes and the ECOWAS commission prioritizes creating opportunities for such interactions to be held as well as equipping stakeholders with the necessary skills and competence for dialogue and mediation.
To this end, he called on all candidates and political parties, including IPAC to always uphold the contents of the signed peace Accord and the electoral guidelines which are imperative to ensuring a peaceful and credible general election.
He said: "With the hope of ensuring that all stakeholders play their role, including the police and INEC in ensuring a peaceful, free, fair, and credible election that will be acceptable to all Nigerians. Creating space for dialogue and inclusivity in the electoral process is key; because once you deny that inclusivity factor; it creates an opportunity for people to resort to violence. Grievances can be brought out and collectively, we look at the contentious issues and find common ground. We are doing it specifically for Nigeria because Nigeria is strategic in ECOWAS.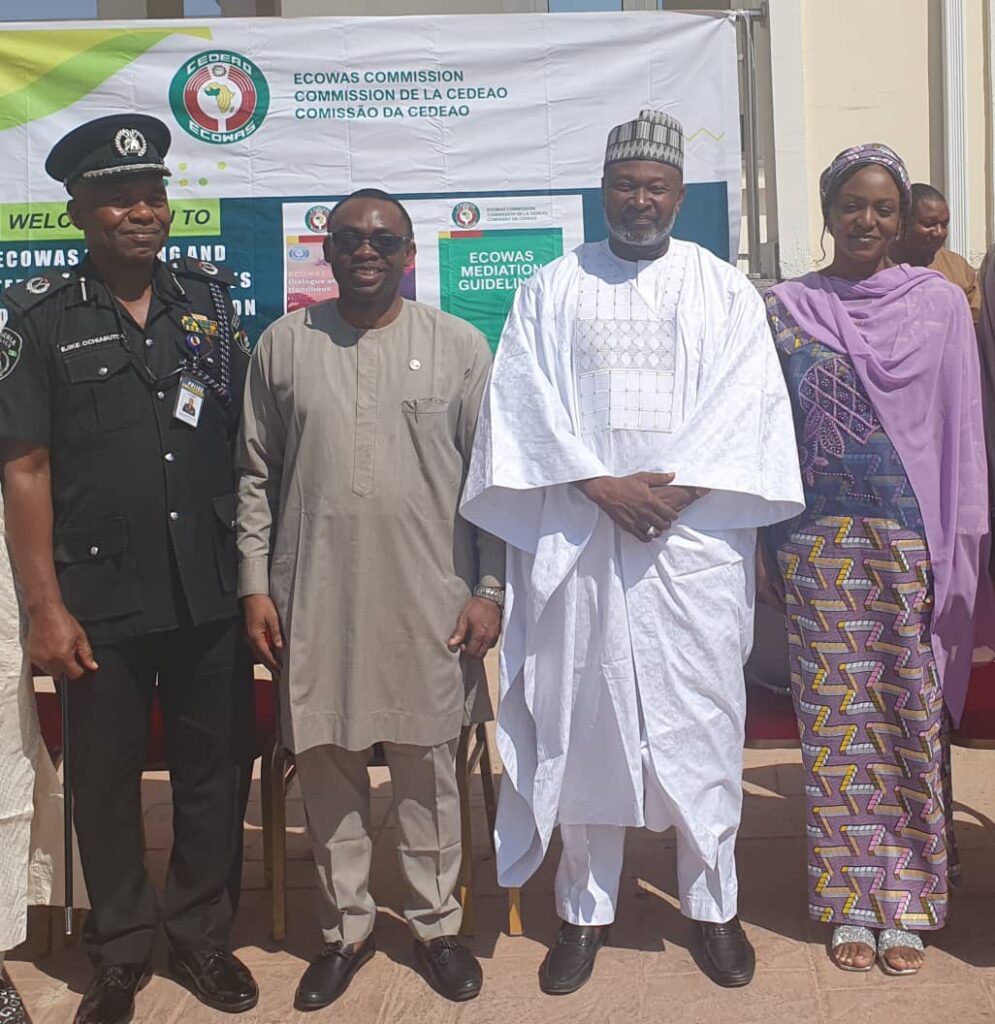 "Nigeria has an enormous population; elections are a period that can generate conflict and if not effectively managed, have the potential of snowballing into violence. And when violence occurs, with the enormous population of Nigeria, it can spill over to other neighboring countries. And I can assure you, no member country within ECOWAS will have the capacity to accommodate refugees from Nigeria.
"That is why, we do all we can, to encourage stakeholders to dialogue, by looking at contentious issues and seeking ways to amicably resolve them to have a peaceful outcome. It is in this regard that the ECOWAS Commission developed a Dialogue and Mediation handbook, elements of which will be used in the course of this training workshops, and with this, participants are expected to acquire practical techniques and skills for dialogue and mediation as important tools for the management of electoral disputes and conflicts through role-plays and simulation exercises," he stressed.
He added that the specific goals for the engagements include creating the opportunity for participants to appreciate the ECOWAS normative principles and frameworks for transparent and peaceful elections as espoused by the 2001 supplementary protocol on democracy and good governance; sustaining and enhancing ECOWAS' strategic engagement with the political process in Nigeria and also as an indication of our commitment and preference towards using dialogue and mediation in resolving electoral disputes and violence.
On his part, the state's Resident Electoral Commissioner (REC), Dr. Oliver Agundu said that the ECOWAS commission has taken a very unique and very commendable step that will no doubt help to strengthen channels of information and deepen relations amongst the stakeholders and promote widespread collaborations on common issues faced during elections.
Represented by the commission's Head of Voters' Education, Mr. Otokpa Egwurube, the REC said, "We also urge stakeholders to act and behave responsibly even in the face of defeat or when the victor is victorious because in an electoral contest, there must be a loser and there must be a winner.
In the same vein, the representative of the United Nations Office in West Africa and Sahel (UNOWAS) Liaison Office in Nigeria, Mrs. Sa'adatu Shuaibu noted that the training falls within the framework of UNOWAS joint efforts with ECOWAS to support member states in their efforts to conduct peaceful, inclusive, and credible elections and entrench democracy.
"As part of its efforts to ensure peaceful, credible, and inclusive elections in Nigeria, UNOWAS has conducted various engagements with national stakeholders to the formal special representative of the secretary-general (SRSG), Mr. Mahamat Annadif, who used his good offices last year to engage with Nigeria authorities, school parties, some presidential candidates, civil society organizations, the Independent national electoral commission (INEC), the inter-party advisory council (IPAC) and members of the diplomatic corps on the need to strengthen peace, democracy, development and good governance in Nigeria."
Also speaking, Plateau State Commissioner of Police, CP Bartholomew Onyeka said that the nation's recent history of pre and post-electoral violence is the reason many Nigerians are very apprehensive.
But allaying the fears of citizens, Onyeka, who was represented by ACP Ejike Ochiabotor, said, "Plateau state police command under my watch as the prime law enforcement agency in the state has involved various workable strategic measures to ensure that the forthcoming general elections are conducted peacefully without any hitch all over the state, adding that the command has carried out effective sensitization of its officers and critical stakeholders in the state to virtually all rules guiding the conduct of the elections.
"We have made golden plans on how best to make deployments, protect the integrity of the electoral process, and make sure elections are credible to all, taking past elections as a case study. All prisoners have been properly educated on how to secure the electorates, INEC officials, and materials, and escort INEC staff and materials to the polling units and back to the collation centers.
In the same vein, the National Secretary of IPAC, Alhaji Yusuf Dantalle, in his remark, said the free, fair, credible, transparent, inclusive, peaceful, and acceptable election is the beauty and bedrock of democracy, noting that the forthcoming general election is critical for sustainable democracy in Nigeria.
"The success of the elections will be a defining moment for our fellow compatriots who desire and yearn for transformational, visionary, progressive, purposeful, and resourceful leaders who will restore Nigeria as the great arsenal of democracy in Africa", he observed.