By Frida Ghitis
Over the past decade or so, the Kremlin has endeavored to exploit Latin America's internal divisions and its differences with the United States with the purpose of building a beachhead of diplomatic and strategic support in a region geographically close to the U.S. The success of that project is now being put to the test in the aftermath of Russia's invasion of Ukraine. Three weeks into the ensuing war, there is little evidence that Moscow's efforts to woo Latin America have yielded any significant benefits. In fact, if anything, they look like a failure.
The Kremlin has spent billions of dollars supporting autocratic regimes in Latin America, boosting the fortunes of its entrenched, embattled leaders. It became a lifeline to Venezuelan President Nicolas Maduro, a major supporter of both President Daniel Ortega's increasingly dictatorial regime in Nicaragua and the inheritors of former President Evo Morales' leftist government in Bolivia.
In addition to arms shipments, military exercises and huge loans to key players, Russia has invested heavily in promoting anti-Western propaganda and targeted disinformation campaigns in Latin American countries, according to multiple studies. Purporting to offer the region alternative sources of news, it has launched Spanish-language versions of its controversial news organizations RT and Sputnik, which have opened and staffed news bureaus in Latin America. Their coverage skillfully blends real news and light-hearted stories with a steady stream of material that promotes Russia while disparaging the United States and Western democracies.
Ostensibly, these efforts were undercutting U.S. influence in Latin America, creating a zone of diplomatic and strategic support for Russia in a region that, Moscow assumes, is perceived by Washington as a legitimate sphere of influence, equivalent to Russia's own "near abroad." And in the weeks leading up to the invasion, it seemed as though the Latin America campaign would pay off for Russian President Vladimir Putin.
When Brazilian President Jair Bolsonaro visited the Kremlin in mid-February, he was allowed to sit alongside the Russian president, rather than having to sit meters away from him at the end of one of Putin's bizarre long tables . Bolsonaro repaid the gesture by declaring that Brazil was in "solidarity" with Russia, while Putin called Brazil Moscow's most important partner in Latin America. Argentina's president, Alberto Fernandez, also met with Putin at the Kremlin in February and later declared that Russia "has a very important place" in helping his country become less dependent on the International Monetary Fund and the United States.
But then, a few weeks later, the United Nations General Assembly was asked to vote on a resolution condemning Russia's unprovoked attack against Ukraine. It received overwhelming support, passing by 141 to 5—and not one Latin American country voted against it.
Moscow's campaign undoubtedly played a role in securing abstentions from Bolivia, Nicaragua, Cuba and El Salvador. Venezuela, in default on its U.N. dues, did not participate in the vote.
But despite its efforts, one after the other, Latin American officials have spoken out against Putin's campaign—with a few exceptions.
Three weeks into the Ukraine war, there is little evidence that Moscow's efforts to woo Latin America have yielded any significant benefits.
Venezuela's Diosdado Cabello, a member of the legislature and one of the country's most powerful political figures, justified the invasion  using the Kremlin's narrative as "Russia protecting its territory." Leaders in Brazil and Mexico also held back in comments about the invasion. Bolsonaro declared Brazil "neutral"  on the conflict, while Mexican President Andres Manuel Lopez Obrador—a fierce critic of U.S. sanctions against Cuba—said that he opposes punishing Russia with economic sanctions. But both of these countries nevertheless voted to condemn Russia at the U.N.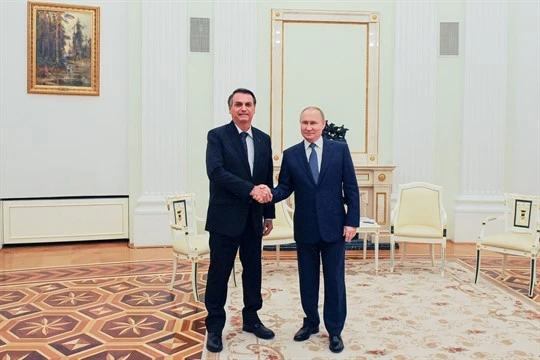 Russian President Vladimir Putin, right, and Brazilian President Jair Bolsonaro pose for a photo during their meeting in the Kremlin in Moscow, Russia, Wednesday, Feb. 16, 2022 (Sputnik photo by Mikhail Klimentyev).
In the middle of all this, Colombia, which was recently designated by the U.S. as a "major non-NATO ally," has offered an interesting lens on Latin America's ideological contests as its presidential campaign plays out. The incumbent government has announced that it will join the international sanctions regime against Russia, with major political figures issuing scathing denunciations of the invasion. Almost all the presidential candidates have followed suit, sharply condemning Putin's actions.
The only one who didn't was Gustavo Petro, the leftist candidate who is currently leading in the polls. Petro, a former guerrilla, has essentially refused to take a position on the invasion, dismissing Ukraine's misfortunes as irrelevant to Colombia's poor. In a Twitter post, he noted only that the Colombian constitution requires the country to engage in diplomacy and "seek world peace."
This raises an important question: How will Latin American leftists respond to Putin's assault, in light of the Kremlin's courtship?
Many of them, in keeping with their viscerally anti-U.S. views, have maintained a soft spot for Russia, notwithstanding the conflict between their "anti-imperialist" beliefs and Russia's blatant neo-imperial designs on Ukraine.
But that soft spot has not been enough to protect Putin everywhere in the region. Chile's young new leftist president, Gabriel Boric, who was sworn in on March 11, has sharply condemned Russia. Chile will also be imposing sanctions on Russia, and its defense minister announced that he would disinvite Russian defense firms from the upcoming international air and space fair in Santiago, one of the biggest defense industry shows in the world.
In Brazil, Luiz Inacio Lula da Silva, the iconic leftist and former president who will likely return to that office after the 2022 election, has spoken about resolving differences without war, but he is not taking Putin's side.
To be sure, Latin America has not taken a unified stance against Russia. The Organization of American States condemned Russia's attack , but each country—and at times, each individual politician—has crafted a response in light of their own circumstances and ideology.
But what is clear is that Russia's attempt to forge a zone of diplomatic support for the Kremlin in Latin America has fallen flat. It's yet another way in which Putin appears to have miscalculated when he attacked Ukraine.
Frida Ghitis is a world affairs columnist and a regular contributor to CNN and The Washington Post. Her WPR column appears every Thursday. You can follow her on Twitter at @fridaghitis.
Credit | WPR