An online post that compared Russia and NATO's military strength has gone viral amid continued anger between Kyiv and Moscow in the wake of Russia's invasion.
The viral post published on the 9.2 million-member-strong r/interestingasf*** Reddit group displayed a graphic that showed the estimated difference in military strength between NATO and Russia.
Since being uploaded earlier today with the title "comparison of NATO's and Russia's military strength" by user u/lestaz_ the post attracted some 70,200 upvotes and nearly 6,000 comments.
The graphic, which appeared to draw from a similar comparison list by Statista, revealed NATO allies had superiority over Russia in most areas of military strength.
NATO allies together have a personnel count of 5.41 million, compared to Russia's 1.35 million, according to the graphic that was the same as Statista's figures.
It also found NATO allies had 144,000 armored units, more than double that of Russia's 60,000, again a similar number to Statista.
NATO once more outnumbered Russia with 20,700 aircraft, a factor of nearly five to one when compared to Russia's 4,170.
Russia is also outnumbered in regard to its naval forces, which number 605—far lower than NATO's 2,049—once again a similar number to Statista.
However, the graphic did highlight one area where Russia has numerical superiority over NATO allies, namely nuclear weapons.
The graphic, which had the same numbers as Statista, revealed NATO has 6,065 nuclear weapons while Russia alone has 6,255.
After being posted online, the graphic attracted thousands of comments from people who shared their opinions about Russia's ongoing invasion of Ukraine.
While the sheer size of both Russia and NATO's military forces attracted concern, it was the nuclear arsenals that drew the most comments from users.
One said: "Way too many nukes for comfort." Another added: "You can shoot down a few, but you can't shoot down all of them. It's guaranteed destruction."
Comparison of the military capabilities of NATO and Russia 2022
As of 2022, NATO had approximately 3.37 million active military personnel compared with 1.35 million active military personnel in the Russian military. The collective military capabilities of the 30 countries that make up NATO outnumber Russia in terms of aircraft, at 20,723 to 4,173, and in naval power, with 2,049 military ships, to 605. Russia's ground combat vehicle capacity is more competitive, however, with 12,420 units, to 14,682. The combined nuclear arsenal of the United States, United Kingdom, and France amounted to 6,065 nuclear warheads, compared with Russia's 6,255.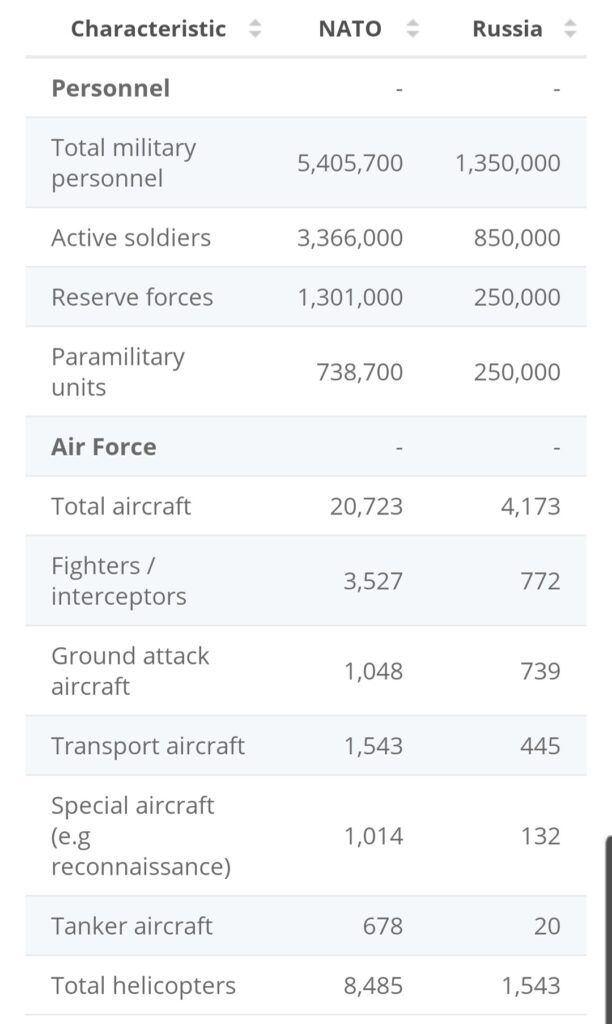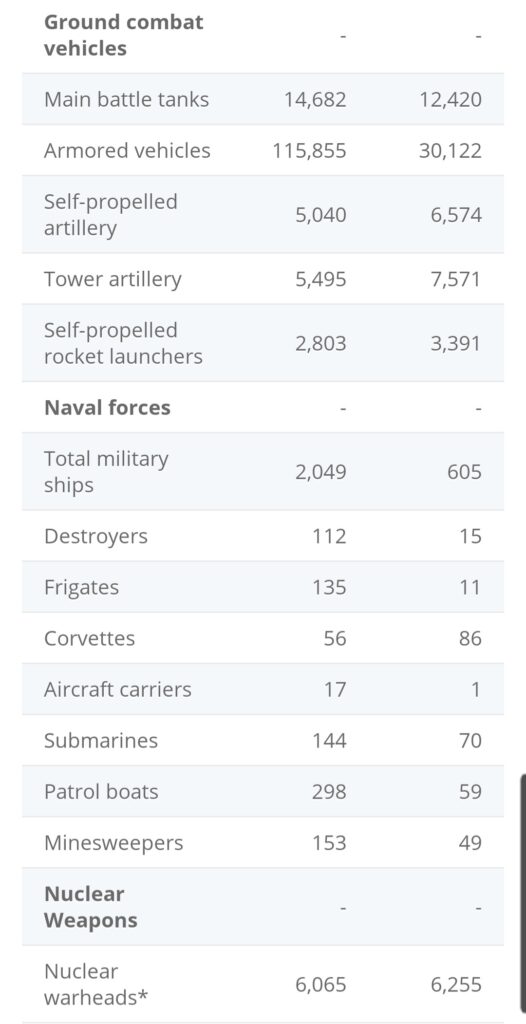 Also watch:
Credit | Statista, Newsweek