Maureen Okpe
Stakeholders have charged women in Nigeria to make concerted effort in repositioning the cause to advance participation in governance and leadership roles.
The stakeholders gave the charge at the seventh Voice of Women conference and awards (VOW2023) in Abuja, stressing the need for women visibility and gender equity.
Kwara state Governor and Chairman, Nigerian Governor's Forum, Abdulrahman Abdulrazaq, noted the need for states in Nigeria to focuse on gender mainstreaming, as this will amount to visible development.
AbdulRazaq further charged women to restrategise as this is the right time to fight their course, stating a need to have alternative plans to engage, especially when negotiating for leadership roles as this will provide a leverage to achieve their aim.
According to him, "I encourage women to have a plan 'B' when going to the negotiation table, example, if asking for 35% did not work, like demanding for deputy will be a good demand.
"In Kwara state women are in charge with about 56 per cent making majorities in the cabinet, stating this has amounted to the development strides.
"So, as Chairman of NGF, in partnership with Governors Wives Forum, women can constitute a policy where for example states and constituencies that elect women into legislative houses can benefit financially, so you can assume any amount.
" This way, states and constituencies will go for the money, this is applicable in fiscal responsibility where we are told that if you publish your budget, you get two million dollars.So, if we have such programmes in gender issues, I'm certain that many constituencies will go for the money, that way more women will be brought to the table to make the right decisions and make the change.
" On her part, Erelu Bisi-Fayemi, VOW2023 Chairperson, noted the challenges affecting African women and girls, however, stating the progress made in changing political landscape in some countries.Bisi-Fayemi stressed that, in spite of the many challenges that have continued to plagued women, they have managed to make their marks in leadership.
She said, "we have changed political landscapes in Liberia, Rwanda, Namibia, South Africa and Kenya to mention a few.Nigerian women are more educated and wealthiest in Africa, even though it has not translated into political power, featuring poorly on most global indicators
"The most recent Global Gender Gap Index 2023 ranked Nigeria130th out of 146 countries.Nigeria has one of the highest maternal mortality rate in the world at 12 per cent of global figures, also, the highest number of child brides at 22 million, as well as highest in West Africa and 11th highest globally.
"She, therefore, stressed the need to change the narrative, be committed to social change, qualitative legal and policy frameworks that can remove oppressive patriarchal norms and values.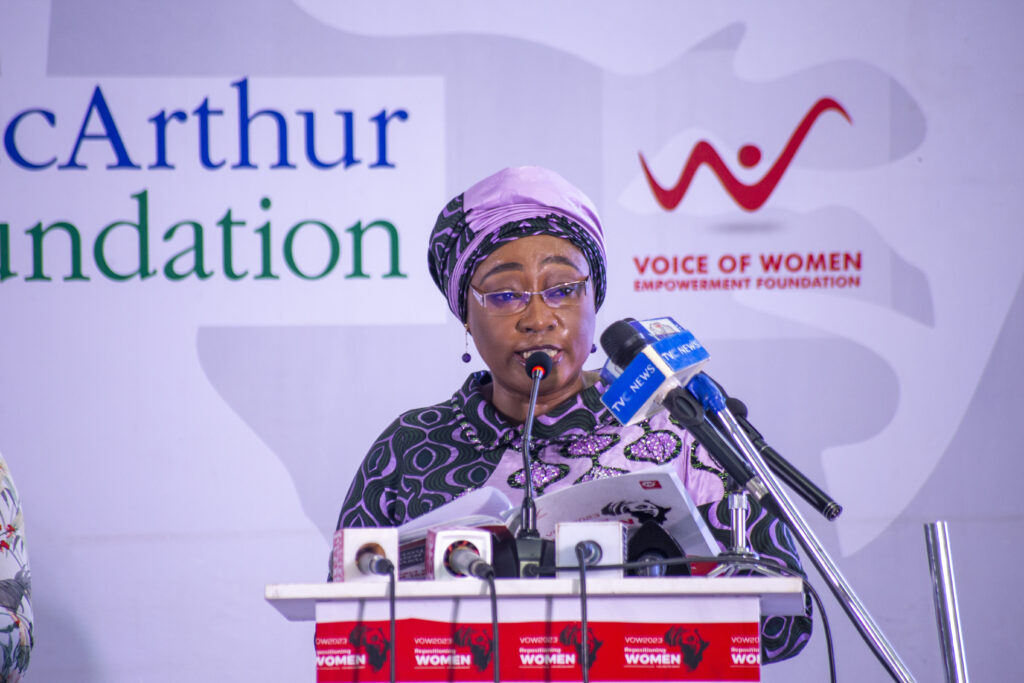 Dr Salma, Ibrahim-Anas, Senior Special Adviser to the President on Health, stressed that women should be on the table where development plans are rolled out.
"Nigeria cannot continue to stand on one leg as we do at the moment, women constitute almost 50 per cent of our population and so we need to complement each other by creating the right opportunities as every nation's success is tied to the activities of women."
While noting that the nation is focused on the wellbeing of the women and girls, just as the HPV vaccines have been recently rolled out by the government, she said, it is a call to action that girls have access to good health so that they can have access to good education."
Without education, we are nowhere I'm only standing here because my parents made the right decision at the right time to send me to school," she said.
Cheif Executive Officer, Women Radio 91.7 fm, Toun Sonaiya stressed the role of the media in promoting women's political participation in Nigeria"We ventured beyond our operational base and are penetrating different geopolitical zones and communities through collaborative partnership with media and women led organisation to amplify women's voice and advocacy for change."
On her part, Commissioner, National Gender and Equality Commission (NGEC), Republic of Kenya, Margaret Karungaru stressed the need for women to support each other to ensure Inclusivity in all areas.
" Nigerian women need to support each other, not as competitors or adversaries. But support and ensure no one is left behind as we want to see more women in parliament."