By Nalova Akua
The Chinese Communist Party, CCP's footprint is expanding across West Africa, and with it, China's concern for its own nationals in the region. Three Chinese nationals working at a hydropower plant in Niger State were kidnapped on Jan. 4, pushing China to review its security ties with Nigeria.
China's ambassador previously had announced the sending of criminal investigation experts to Nigeria to boost the west African nation's efforts in the fight against terrorists and bandits.
"China's central government is really concerned about the security situation in Nigeria and also Chinese nationals in Nigeria," Chinese Ambassador to Nigeria Cui Jianchum reportedly said in December during an event at Ahmadu Bello University in Zaria to celebrate a Chinese-funded scholarship project.
"The central government made the decision to send a high-level delegation from the criminal investigation experts with real experience," he said.
Nigeria is currently facing its worst security threats in decades, manifested in the form of the Islamist terrorist groups Boko Haram and the ISWAP insurgency, kidnapping, armed robbery, and secessionist agitations.
In the first half of 2021 alone, at least 32 people were killed and another 17 abducted every day by bandits and terrorists, according to Statisense, a private data consultancy agency.
At least 10,263 deaths and 5,287 kidnappers were tracked across Nigeria in 2021, resulting from terrorism, banditry, and kidnapping.
The Chinese ambassador's expression of paternal concern for Africa's most populous nation was seen as a swift materialization of a recent blueprint issued by the CCP signalling a paradigm shift in China-Africa relations.
Analysts see the move by China as a ploy to wean some African states from the economic grip of the United States in the near future—something that has implications for the economic and energy security of Washington.
"The growing penetration of China in every aspect of Africa's economy, culture, security, and geography is now, more than ever before, a serious challenge to U.S. influence and interests in Africa," said Dr. Freedom Onuoha, a senior lecturer at the Department of Political Science, University of Nigeria, Nsukka.
"China's recent pronouncement of its plans to work closely with Africa to further upgrade and improve the quality of China-Africa cooperation through the implementation of nine programs strongly resonates with Nigeria given Nigeria's position in Africa and the geopolitical orbit of Chinese interests in the continent," Onuoha said.
"As Africa's most populous country and West Africa's regional hegemon, Nigeria has been courted over the years by successive Chinese administration. During President Olusegun Obasanjo's administration, China expanded its diplomatic drive to gain access to Nigeria's oil industry largely dominated by U.S. and European energy multinationals. During President Yar Adua's administration, China deployed its diplomatic machinery to ensure that Nigerian resisted the planned US location of AFRICOM in West Africa."
Onuoha added that Nigeria has swallowed more of the "Chinese bait" in the form of loans accepted by President Muhammadu Buhari's administration.
"The idea of improving on nine programs by the Chinese reflects a conscious effort by Chinese government to tighten its grip on Africa in the face of renewed US interest and quest to diminish China's growing influence and footprints in the continent."
The U.S. military is constantly surveilling China's multiple military options in Africa.
"We know the Chinese desire a network of bases around the globe," the head of U.S. Africa Command, General Stephen Townsend, has told a Congressional hearing in April last year, pointing their attention to Nigeria among other West African nations. "My concern is the greatest along the Atlantic coast of Africa," Townsend said.
Over the years, Chinese contribution to peace and security—largely in the form of deployment of Chinese People's Liberation Army (PLA) as troops in U.N.-led peacekeeping operations—has laid bare the communist regime's interests in Africa. In 2017, China inaugurated its first overseas base in the East African country of Djibouti, located just 7 miles from the U.S. military's Africa hub, Camp Lemmonier.
"Chinese contribution of troops in Africa is not essentially out of humanitarian altruism or benevolence," Onuoha told the Epoch Times.
"Ostensibly, China instrumentalizes U.N. peacekeeping operation as one of the veritable tools in deepening and solidifying its broad strategic engagement across Africa to advance its growing economic and diplomatic interests or foreign policy goals.
"The U.S., on the other hand, invests on peace and security in Africa mainly to ensure and assure her own strategic security, especially in preventing and countering some transnational threats such as terrorism, violent extremism and other forms of organised crime that pose serious threats to US homeland," he added.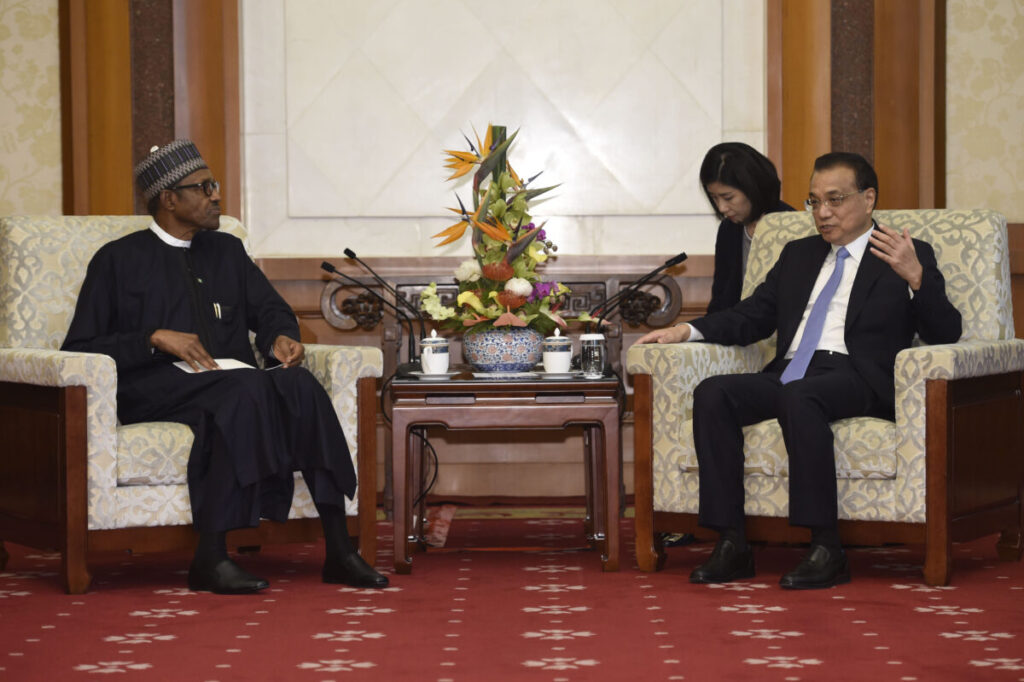 Nigerian President Muhammadu Buhari (L) speaks with Chinese Premier Li Keqiang during their meeting at the Diaoyutai State Guesthouse in Beijing, China, September 5, 2018. (Photo by Parker Song – Pool/Getty Images)
Research indicates China has moved from being the least popular study-abroad destination for African students to the most popular for a growing number of study markets. The rate of growth of African students going to China for study abroad grew by 258 percent between 2011 and 2017, compared with a growth rate of 30 percent for the United States.
As of 2019, there are 6,845 Nigerian students currently studying in China—512 of whom are on Chinese scholarships, according to China-admissions.com.
During the 8th Forum on China-Africa Cooperation (FOCAC) ministerial meeting that took place in Dakar, Senegal, on Nov. 29–30, 2021, China welcomed the inclusion of the Chinese language into African countries' national curriculum, while promising to support Chinese language teaching in Africa through various ways.
"Such soft power cultural initiative will increase the level of social exchanges between their peoples," Onuoha said.
"Since language is a principle instrument of communication and the bedrock of social interaction, Chinese language penetration is strategically designed to win African hearts and minds in its battle with other extra-regional powers in Africa, especially the U.S. and to a lesser extent, Europe," he told The Epoch Times.
Several African states are experimenting with the first year of the African Continental Free Trade Area agreement (AfCFTA)—an ambitious trade pact to form the world's largest free trade area by connecting almost 1.3 billion people across 54 African countries. Africa is the largest regional component of China's $1 trillion Belt and Road Initiative (BRI) to reconfigure the architecture of global commerce.
"The coming together of China and Africa through the Chinese Belt and Road Initiative and Chinese recent endorsement of the African Continental Free Trade Area pose an enduring threat to the US given that economic penetration and possible bonding among state actors often have the longest and durable anchorage in their relationship," Onuoha told The Epoch Times.
Nalova Akua is a Cameroonian multimedia freelance journalist
Credit | The Epoch Times