•As NDLEA arrests six in Abuja Garden raid with drug cookies and noodles
Mukaila Ola
Chairman/Chief Executive of the National Drug Law Enforcement Agency, NDLEA, Brig. Gen. Buba Marwa (Retd) has said that a special task force is currently working across the country to track and dismantle drug cartels behind the production and distribution of methamphetamine, popularly called Mkpuru Mmiri, being abused by youths in parts of the country.
Marwa disclosed this while answering questions from journalists at a press briefing at the agency's national headquarters in Abuja on Monday to mark his first year anniversary as the Chairman/Chief Executive of NDLEA.
The drug czar challenged communities across Nigeria to take ownership of the war against drug abuse as those in South East states are presently doing by standing up to those engaging in abuse and trafficking of illicit drugs.
He said: "If you look at the preponderance of the dealers in drugs, I'm not saying anything new but the South East has the predominance and that's a fact. Who are the Boko Haram people? I know they are not Yoruba and I know they are not people from Edo, but if you go to the North West and ask who are the bandits, I know they are not from Cross River or from Lagos. If you ask the people doing the human trafficking, the women, you know from where. So definitely, we have the preponderance of the drug dealers from the South East, but what more do you have; the greatest efforts by communities to rid the country and their communities of drug use is from the South East. Clearly, in the same South East, they are doing two things; first, they are telling their fellow travelers who are not decent, that look 'you are the very few who are spoiling our names here. Stop it!
"And more importantly, they are riding their communities of drug abuse, they have taken the ownership of the war themselves against drug abuse especially the Mkpuru-Mmiri. By the way, we have set up a special task force to face that challenge and very soon you would hear and see the results of our efforts.
"In essence, what I am saying is that, I am now taking the South East as an example, for all the other communities in Nigeria. This war has to start from the bottom, from the communities; set up your War Against Drug Abuse, WADA, Committees. In every community, you are the ones who know those patent medicine stores that sell drugs, the mai shayi, those at the corner ends of the streets who sell and hawk drugs, you know the traffickers and you know those who use them. Take this war to your communities because you know these people, cleanse your communities, and take the ownership of this war and the NDLEA will always be there to back you up."
He added that: "However, the NDLEA does not and will not support the flogging of the culprits and some of the other human rights abuses. We will be there to support with counseling and treatments. And I urge the entire country to take an example of the ownership of the war against drug abuse from the South East."
The NDLEA Boss attributed the successes recorded in the drug war in the past year to God, support of President Muhammadu Buhari, National Assembly, Minister of Justice and other stakeholders including international partners such as UNODC, EU, and foreign governments as well as local CSOs and NGOs.
He listed the arrest of 12,306 suspects, including seven drug barons; conviction of 1,400 offenders; seizure of over 3.4 million kilograms of assorted drugs; drugs and cash worth over N130 billion and the counselling and rehabilitation of 7,761 drug users as some of the achievements recorded in 2021 in the area of operation.
Marwa also promised to build on the foundation laid in 2021, insisting that NDLEA under his leadership now has a clear roadmap to the future.
He said: "The agency has come a long way. And there is still a long way to go. We have a clear vision of where we are headed, and there is a roadmap to that destination. Today, the improvement in our fortune as an organisation is driving the NDLEA workforce to continue to push for the attainment of organisational goals and fulfillment of our core mandate of securing our country against the drug scourge. We all believe in the vision of the new NDLEA and we are committed to its mission. Our mandate is to ensure a drug-free Nigeria. We shall continue to play our role towards the achievement of that goal."
On his future plans, he said: "After one year of restructuring and rejuvenation, the NDLEA is now an organisation of bolstered workforce with 15 Directorates and 115 formations across 14 Zonal Commands, 36 States Commands (including FCT Commands) and 10 Special Area Commands.
"In 2022, we are going to build on the foundation laid in 2021. That building process includes: Continued recruitment and training of new officers. We are set to increase our staff strength in the new year. Intensification of WADA campaign
Amendment of the NDLEA Act, which is awaiting second reading in the National Assembly. Procurement of arms and other operational equipment."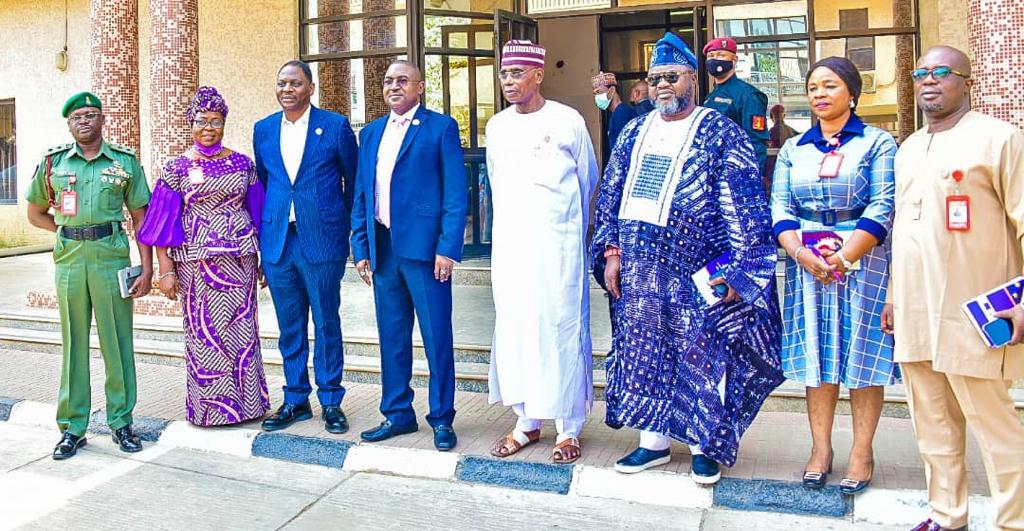 NDLEA arrests six in Abuja Garden
Operatives of the National Drug Law Enforcement Agency (NDLEA) have raided a relaxation centre, popularly called Garden in Abuja and arrested six persons for selling drug cookies and noodles.
The raid, according to a statement by the spokesman of NDLEA, Femi Babafemi followed credible intelligence, which led to the raid of the Garden at Wuse Zone 5 behind Shoprite.
He said during the raid a woman, Rachael Famiyesun, 29, who deals in drug cookies was arrested along with her salesgirl, Stella Sunday, 20, and beside the cookies, they were also caught selling bottles of black currant drink popularly called Zobo prepared with cannabis.
Also in case the Garden, another business operator, Moses Obi, 30, was arrested with his salesgirl, Aisha Abdulrahman, 19, for selling indomie noodles prepared with cannabis.
A barman, Ahonye Jonah, 31, who works with the owner of the Garden, was equally arrested while one of their customers, 38-year-old Ngozi Emelogu during the raid last Wednesday.
Babafemi said two days earlier, officers of the FCT command of the agency had raided the Zuba Yam Market, where a drug dealer, Haruna Hassan was arrested with 19.3 kilogrammes cannabis.
In other interceptions, attempts by drug traffickers to export 1.53 kilogrammes of cocaine hidden inside hair cream to London, and another 880 grammes of cocaine concealed inside synthetic hair to Jeddah, Saudi Arabia as well as 3 grammes of cocaine and 5 grammes of cannabis to Cyprus packed inside locally made shoes through two major courier companies in Lagos have been foiled by narcotic officers attached to the firms.
Babafemi said in Edo State, operatives last Tuesday intercepted a Toyota Camry car with Reg. No. FKJ 897 DG (LAGOS) loaded with 360.4 kilogrammes cannabis sativa heading to Abuja and arrested the driver, Nurudeen Subaru, 42, in Auchi, Etsako West area of the state.
He said the following day, the Edo command officers also evacuated 111 kilogrammes cannabis stored in a bush at Iruekpen, Esan West local government area while 276 compressed blocks of the same substance weighing 248.4 kilogrammes were recovered from one Austin Okongwu (a.k.a Igwe), 45, at Agenebode, Etsako East while moving the drug in a Lexus saloon car with registration number ABC 583 MJ (ABUJA).
He said last Wednesday, a raid on a drug joint in the Edo state capital, Benin, led to the arrest of three drug dealers: Kelly Ogbebor, 38; Daniel Oviawe, 35, and Kelly Kenmakonam, 29 with different quantities of cocaine and heroin seized from them.
In Plateau State, attempt by 29-year-old Ifeoma Sade, wife of a drug dealer, Ifeanyi Onyeasi, 34, to swallow 12 grammes of cocaine found in their house at Agingi, Rukuba road, Jos, during an arrest operation was scuttled by operatives who retrieved the drug from her throat on Sunday 16th January.
He said also recovered from them was a monetary exhibit of N234,650.
Babafemi also disclosed that different quantities of cannabis, methamphetamine and tramadol were seized from two suspects; Aliyu Abdullahi and Ishaya Emmanuel, when a commercial bus with registration number GME 711 YX bringing them from Lagos to Yola, Adamawa State was intercepted along Abuja road by officers of the Plateau state command last Wednesday.
In Adamawa State on Wednesday 19th January the long arm of the law eventually caught a notorious drug dealer, Adamu Musa who has been on the run for nine months. His 31-year-old elder sister, Mrs. Hannatu Sini had been arrested on 16th April 2021, at Gombi local government area of the state with 14.4 kilogrammes of cannabis sativa and admitted keeping the exhibit for her younger brother, Adamu Musa who was subsequently placed on the wanted list of the command.
He added that an ex-convict, Mrs. Modinat Lawal, was arrested in Kano last Wednesday with 22 kilogrammes cannabis sativa she brought into Nigeria from Benin Republic. She had earlier been arrested, prosecuted and jailed for the same offence, he said the Ogun State born trafficker claimed then that her name was Bola.
Chairman/Chief Executive of NDLEA, Brig. Gen. Buba Marwa (Retd) while commending the officers and men of the FCT, Edo, Plateau, Adamawa, Kano and Directorate of Investigation and General Investigations for the arrests and seizures, however charged them and their counterparts in other commands to remain vigilant and always proactive.