•…Due to inadequate personnel
•Calls for more recruitment
Senator Iroegbu and Godsgift Onyedinefu
Hon. Abdulrazak Namdas, Chairman, House Committee on Army, has said soldiers fighting Boko Haram in the Northeast stay longer than they should in the warfront because the Nigerian military do not have adequate personnel.
This comes as soldiers in the warfront have repeatedly lamented that they are battle-fatigued and have lost the morale to combat insurgency because they have not been totaled for many years. A soldier in the frontline ought to be rotated after two years, but many of these soldiers say they have stayed up to five years.
Experts have equally expressed worry that this trend affects the sanity of soldiers and ultimately the war against terrorism, but, no action have been taken despite repeated assurances from the Military.
Namdas, has however advised that Nigeria needs to recruit more personnel in order to address this recurring problem, especially as the country is witnessing multiple and increasing security challenges.
The House Committee Chairman stated this on Wednesday at a one-day Executive-Legislature-CSO roundtable on the Status of Protection of Civilians and Civilian Harm Mitigation Framework, organised by Civil Society Legislative Advocacy Centre (CISLAC) in collaboration with Centre for Civilians in Conflict (CIVIC) at the Nigerian Army Resource Centre, Abuja.
Namdas further noted that this shortage of personnel often forces the military to deploy recruits to the conflict zones without thorough training and familiarisation with security operations.
This, according to him, makes it difficult for these soldiers to protect civilians and comply with laws on human rights.
He said, "The problem we are having with military is inadequate personnel and increased security challenges. Soldiers in the Bush stay for over 5 years in the North-east fighting a war, without being changed to come back, it's not easy to be civil in this matter.
"Today, if I tell you the number of soldiers pleading with me to be changed.. and when soldiers starts saying they what you leave, it means there is problem. They are are also human beings let's us be fair and that's why we must demonstrate political will on this.
"We need to recruit more personnel so that there will he some level of changes."
On the rising insecurity in the country, the chairman stressed that the protection of civilians and addressing internal security is purely a job for the police.
He said the Nigerian government must begin to pay more attention to the lolice; train and equip them, so that the Military is not overstretched to do its job.
"There is an urgent need to distinguish between military and policing task as imperative for improved protection of civilians in conflict", he stressed, while also regretting that distinguishing civilians form perpetrators have become difficult, which creates challenges of ensuring compliance with international human law.
The chairman further hinted that a draft bill on the subject matter is ready and he will jointly sponsor it with his colleagues.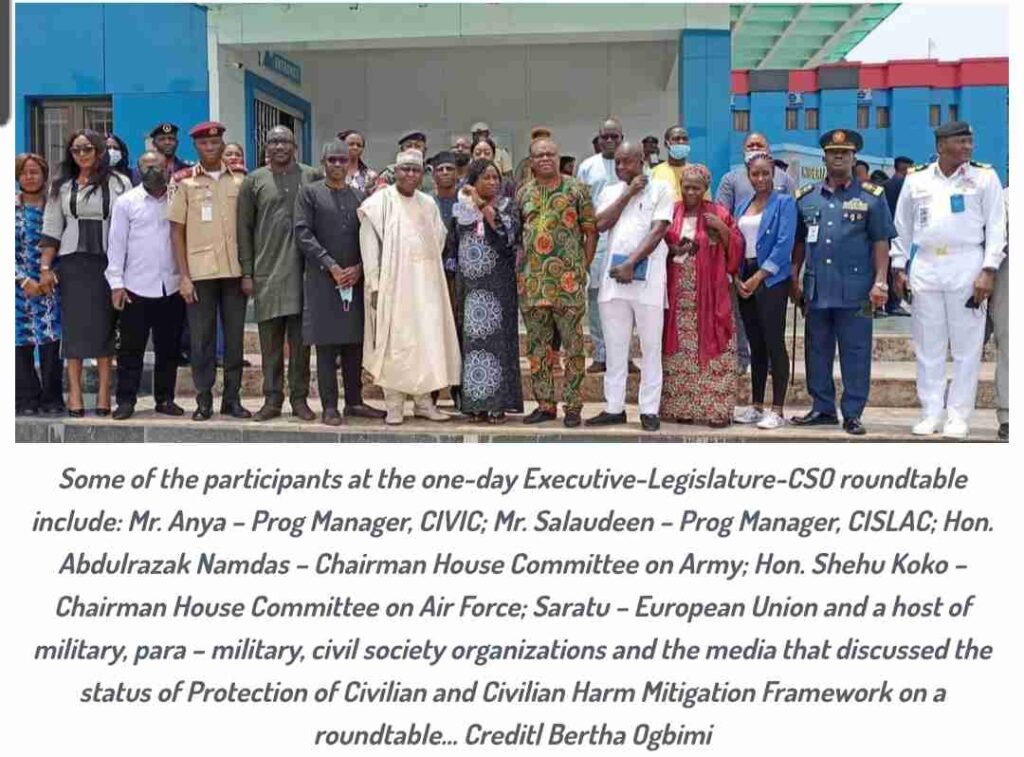 The Chief of Air Staff (CAS),Chief of Air Staff, Air Marshal Oladayo Amao also speaking, noted that national security today is citizen-centred and stressed that every body have a responsibility to play.
The CAS, who was represented by Air Commodore David Balogun, Director, Civil-Military relations at the Nigerian Air Force (NAF) headquarters described the roundtable as apt. He expressed optimism that the outcome of the engagement will help the Armed Forces in the enforcement of their constitutional duties.
Auwal Musa, Executive Director, CISLAC explained that the roundtable was aimed at addressing the evolution of the conflict in Nigeria and ongoing civilian protection challenges, and to mobilize various stakeholders to advance policies and practices that minimize civilian harm.
"The scale of severity of human suffering in armed conflicts in Nigeria continues to grow at an alarming pace, as conflicts all over the country have continued to record fatalities and displaced millions from their homes, resulting in the population of greatest displacement since the civil war", he said.
He added, " Conflict in densely populated areas exacerbate risks to civilians and disrupt livelihoods, education, health systems, and critical infrastructure, creating conditions for severe insecurity and spread of deadly diseases. This roundtable will provide an opportunity for the state and non-state actors to take into account precautions in the conduct of hostilities."