•AFRICOM says it promotes human rights and rule of law but doesn't know why trainees are overthrowing their own governments.
By Nick Turse
In the last two years, U.S.-trained officers have overthrown West African governments at least four times. But U.S. Africa Command (AFRICOM) can't explain why and doesn't know exactly how often it's happened.
Last week, senior leaders from the U.S. Army and more than 40 African nations met at Fort Benning, Georgia for the 10th African Land Forces Summit. The theme had the catchy title: "Resilient Institutions Build Resilient Leaders." The experience, said Maj. Gen. Andrew M. Rohling, the commander of U.S. Army Southern European Task Force, Africa, "would be good to showcase a way, the American way, that we train and build leaders not only in their tactical tasks, but in the ethos of the United States Army, the values and the discipline that is a hallmark of my Army."
Those values have been lacking in West Africa, where U.S.-trained officers have attempted at least nine coups (and succeeded in at least eight) across five West African countries, including Burkina Faso (three times), Guinea, Mali (three times), Mauritania, and the Gambia. The four most recent coups by U.S. trainees have occurred in Burkina Faso (2022), Guinea (2021) and twice in Mali (2020 and 2021).
During a conference call with reporters, Responsible Statecraft asked Maj. Gen. Rohling, why so many U.S. trained officers overthrow the very governments the U.S. is attempting to bolster through its summits, trainings, and assistance. "It is the United States policy – well, I'm not going to – yeah, the United States policy is to promote human rights, to promote values, to promote civil and democratic law across the countries," he said. "Exercises – or events such as today's African Land Forces Summit bring those values to the forefront, and we will continue to hold meetings and training exercises that continue to promote human rights, human values, the ethos of the United States Government, the United States Army, and then we will do our best to ensure that the countries that participate understand what we're training and will present a viable role model for those countries."
Rohling's uncertain answer is mirrored by U.S. Africa Command's uncertainty about its coup-prone trainees. AFRICOM does not track what becomes of the officers it trains, nor does it know which have conducted coups. "AFRICOM does not actively track individuals who've received U.S. training after the training has been completed," AFRICOM spokesperson Kelly Cahalan told Responsible Statecraft, noting that the command does not maintain a list or database of African officers who have overthrown their governments or even keep a count of how many times its occurred. "AFRICOM does not maintain a database with this information."
In 2020, Col. Assimi Goïta, who attended U.S. training exercises and a Joint Special Operations University seminar at MacDill Air Force Base in Florida, headed the junta that overthrew Mali's government. Goïta soon stepped down to take the job of vice president in a transitional government tasked with returning Mali to civilian rule, only to seize power again in his second coup in nine months. Last summer, a Guinean special forces unit led by Col. Mamady Doumbouya took time out from training with U.S. Green Berets to storm the presidential palace and depose the country's 83-year-old president, Alpha Condé. Doumbouya soon declared himself Guinea's new leader. And in January, Lt. Col. Paul-Henri Sandaogo Damiba, who participated in at least a half-dozen U.S. training exercises, according to AFRICOM, overthrew the democratically elected president of Burkina Faso.
On the other side of the continent, long-running U.S. counterterrorism efforts have taken a hit as the militant group al Shabaab has conducted increasingly bold and deadly attacks. Last Wednesday, an al Shabaab assault on a regional presidential palace about 185 miles north of the capital, Mogadishu, killed 48 people and wounded more than 100. That same day, members of the group breached the heavily fortified compound at Mogadishu's international airport, killing two security guards and a member of the Somali police.
In late 2020 and early 2021, then President Donald Trump withdrew most U.S. military personnel from Somalia. While a U.S. "footprint" and troops quickly returned, reports indicate that American military has been pushing the Biden administration to send even more forces.  Earlier this month, AFRICOM commander General Stephen Townsend warned that the security situation in Somalia "may be backsliding."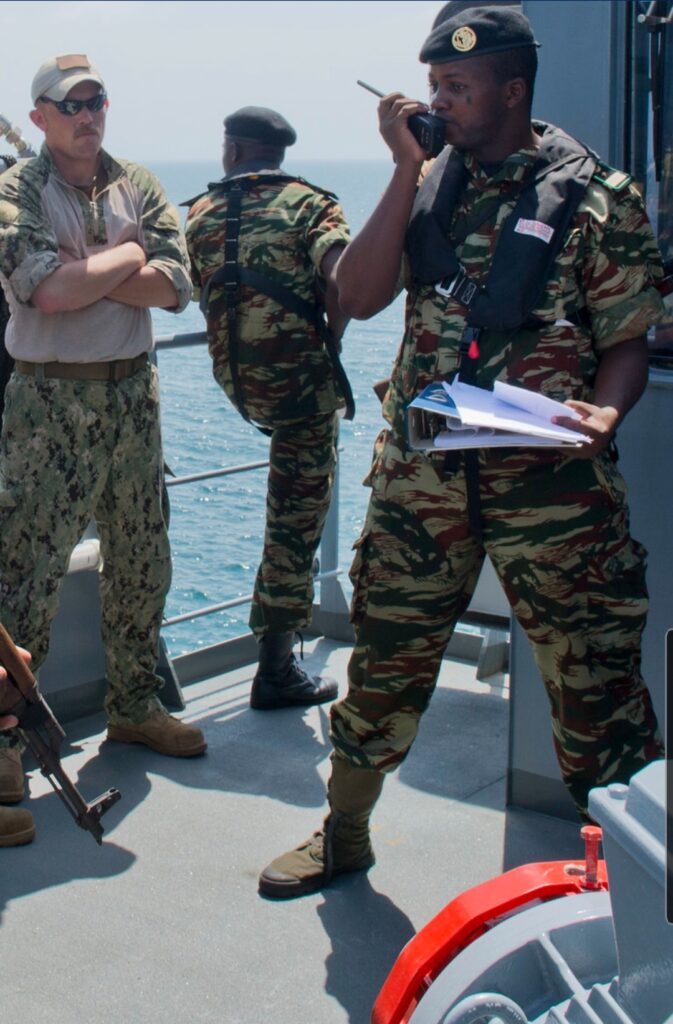 U.S. Navy observers watch as Cameroonian sailors question crew members during a simulated boarding of the suspect vessel during Obangame Express, a U.S. Africa Command-sponsored multinational maritime exercise designed to increase maritime safety and security in the Gulf of Guinea in 2014. (U.S. Navy photo by Mass Communication Specialist 2nd Class John Herman/Released)US MILITARYThe military isn't tracking US-trained officers in Africa
Asked about security, writ large, Maj. Gen. Rohling touted work with African forces. "I think training through allies and partners is how we achieve our shared security objectives," he said. "We pursue our campaign objectives in close cooperation with our allies and partners, and our relationships enable us to coordinate our actions to enhance interoperability and share the costs and risks to achieve our mutual security goals."
Across the continent, those costs have been grave, the risks many, and the goals largely missed.
A recent report by the Defense Department's Africa Center for Strategic Studies, a Pentagon research institution, found that "militant Islamist group violence in Africa climbed 10 percent in 2021 setting a record of over 5,500 reported events linked to these groups." This was, however, no anomaly but part of a pattern of deteriorating security that has seen violence by militant Islamist forces consistently rise since 2016.
Rohling stressed the importance of American values in training exercises. "We also want to demonstrate to our African partners that the U.S. is committed to their long-term success," he said. With American efforts in Somalia faltering, terrorist attacks in the Sahel spiking, and Islamist violence on the rise, putsches might be the most tangible sign of "success" when it comes to U.S. training on the continent.
Credit | Responsible Statecraft